Rough Country TJ Track Bar Relocation Bracket
PRESS RELEASE: DYERSBURG, TENNESSEE— There's an easier way to get the right angles after lifting your Jeep TJ, thanks to Rough Country's new TJ Track Bar Bracket.
This heavy duty bracket lets you keep your track rod in the stock location on the axle. Utilizing this bracket alleviates the task of drilling a new axle mount point so close to the original, meaning a faster and easier install with more peace of mind.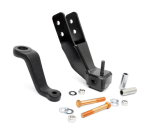 This kit works perfectly with a stock track bar on a 4″ lift, or an adjustable, factory-style track bar on 6″ lifts. This kit also includes an extended pitman arm, allowing you to drop the drag link thus promoting a longer lifespan for tie rod ends – a common weak point on lifted Jeeps. Made with durable 1/4″ plate steel, the TJ Track Bar Bracket is ready to protect at all times, even under intense off-road action. This kit retails for $99.95
Comments