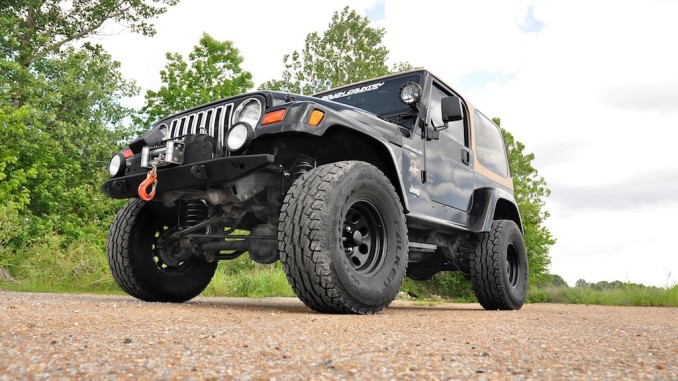 FOR IMMEDIATE RELEASE
PERFECTLY BALANCED:
NEW 4″ N2-SERIES TJ KIT DOMINATES ON AND OFF-ROAD
DYERSBURG, TENNESSEE— Who says your daily driver and your weekend warrior can't be the same vehicle? The 4″ N2-Series Kit for Jeep TJ was engineered by Rough Country's Research and Development Team to give the perfect blend of off-road performance and smooth highway ride. A set of application tuned, lifted coil springs are included in this kit along with a set of tubular lower control arms outfitted with rubber Clevite bushings for the best in vibration dampening. The 4″ N2-Series kit also includes a tubular transfer case drop kit, track bar bracket; and a full set of extended sway bar links. Most notably this kit is outfitted with the all-new N2.0 Shock Absorbers, nitrogen charged and specifically tested and tuned for TJ applications. This allows for a super smooth highway ride and outstanding control in rugged off road situations from the same shock. The 4″ N2-Series Kit for Jeep TJ retails for $499.95
Formed in early 1970's, Rough Country Suspension® Products was a founder of the off-road industry and is one of the fastest growing manufacturers and marketers of lifted suspension packages and off-road accessories for 2wd and 4wd trucks and SUVs. Rough Country Suspension® Products is owned by Heckethorn Products® which boasts a rich history in the automotive aftermarket, including the invention of the first steering stabilizer for military Jeeps in the 1950s. As a complete supplier, Rough Country Suspension Products offers retailers, wholesalers, and consumers an opportunity to purchase easy to install off-road products the market is demanding.
CONTACT:
Rough Country Suspension Products
1400 Morgan Rd.
Dyersburg, TN 38024
800-222-7023
www.roughcountry.com