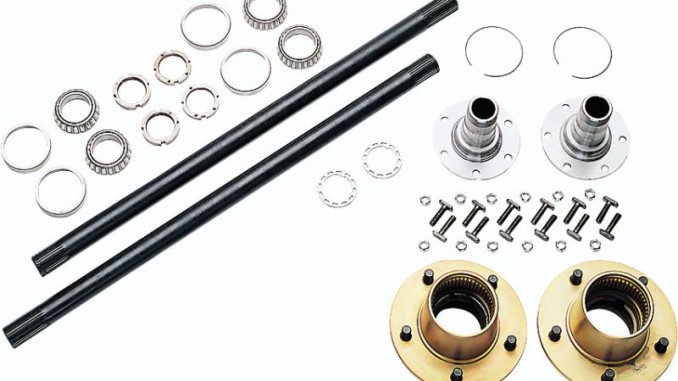 Floating axles eliminate the axle shaft having to support the weight of the vehicle as well as hold the wheels on. Because of the high yield strength of the WARN axle, you'll also find the largest spline count possible, limited only by the differential. The internal splined wheel hubs eliminate bolts and are guaranteed never to loosen. Warn Industries also includes spring loaded lipseals in the wheel hubs and spindles. O-ring seals are used on the hub lock interface. WARN full floater kits with internal mount wheel hubs are now sold as a two part number system: a "foundation" kit and then your choice of drive flanges or hublocks. Drive flanges are designed for people who do not flat tow or who experience excessive driveline backlash with a mechanical locker.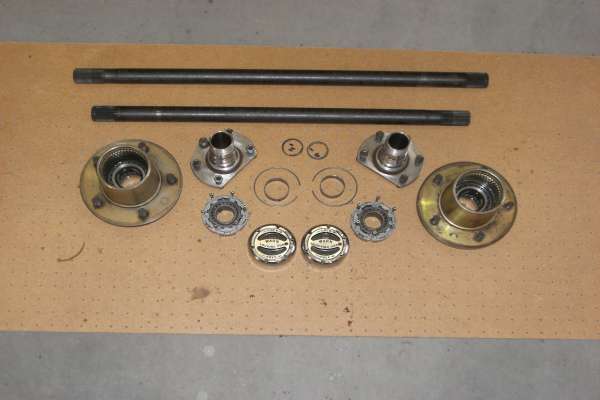 The AMC 20 axle found in most CJ's between 1976 and 1986 is a good axle once it's major flaws are addressed. The 20 uses a semi-floating 2 piece axleshafts. The outer hub attaches to the inner axle through a "self made" spline/key method. Excessive torque due to lockers and/or larger tires can cause the key and splines to give way leaving the vehicle un-driveable.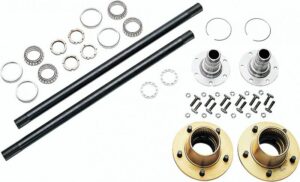 The Warn full floater kit replaces the entire axle assembly with one similar to the CJ front system. Each wheel gets two bearings instead of one and high strength hubs or flanges complete the outer assembly.
The warn kit is essentially a bolt on system and can be installed by the do it yourselfer.
Unfortunately Warn has discontinued this kit – they can be found on eBay and other used product sites.