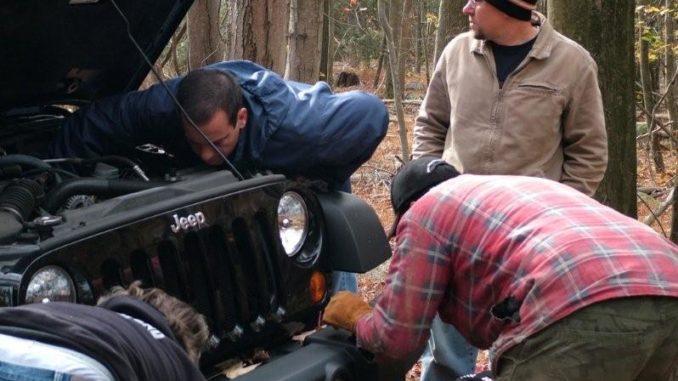 With the summer of 2007 fading into a memory the cold brisk air is becoming the norm in eastern Pennsylvania. Gone are the days of shorts and topless Jeeps – well except for the crazies that wheel in topless Jeeps in snowstorms. We gathered a group of close friends together to have a day of some trail riding at Rausch Creek Off Road park located near Joliet, PA.
After a brief stop for lunch and BS session we proceeded on. We crossed the rock creek and entered a tough rocky section.
WTF? I can't turn right! Mike in the jeepfan.com JK was navigating a rocky section just across the rock creek and realized that the Jeep would no longer steer to the right. Left was fine back to center. The Jeep was pulled ahead out of the mud and we laid down to look underneath. At first everything seemed fine and the worry set in…how could something be driven if you can't turn right?

After a meeting of the minds, looking the Jeep over, and speculation a quick spot by Mark it was discovered that the steering stabilizer at the point where it mounts to the tie rod had rotated due to contact with a rock. The "relocation" had caused the stabilizer tube to hit the track bar mount on the axle when turning.
| | |
| --- | --- |
| | After a little readjusting we were on our way. Definitely could have been worse. |
More trail images
| | |
| --- | --- |
| | |
| We are done! | Watch those steps! |
| | Matt's 84 CJ-7 |
| | |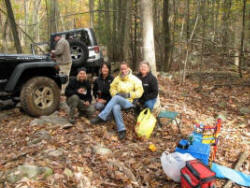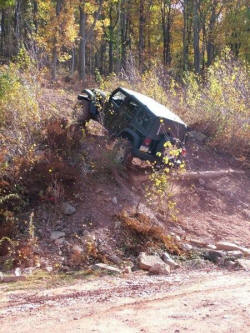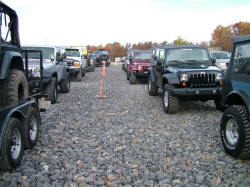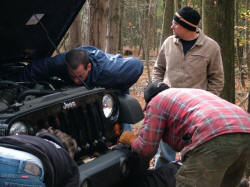 For more information about Rausch Creek Off Road Park visit their website…
www.rauschcreekoffroadpark.com
While we didn't do anything extreme and there were no roll overs we all still had a lot of fun and enjoyed each others company. The weather was perfect for fall and hit the upper 50's so we were all comfortable in sweatshirts and light jackets. Until next time…
| | | |
| --- | --- | --- |
| Concentrate | Heading home | Airing Up |