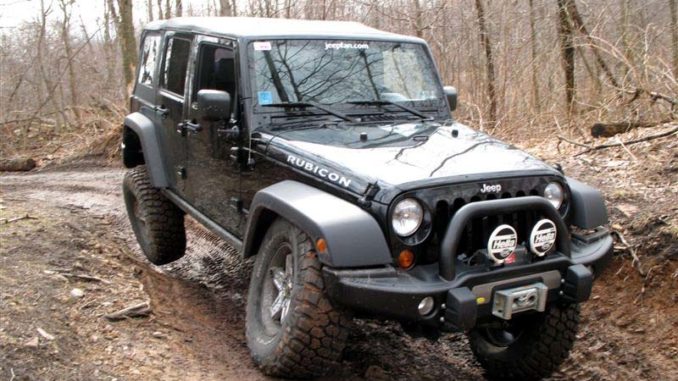 The story of Mike, Nick, and Harry..Impatiently waiting for the winter to become a distant memory we decided to go for a day of wheeling at Rausch Creek.

Somehow we lucked out and hit a beautiful spring day. The temperature reached into the 70's and our group soon had tops flipped back/panels out.
This was an interesting trip for me since there were only three vehicles and all of us were driving 4 door Wrangler Unlimiteds. This was a great opportunity to do a comparison of how what mods and models stack up.
The Jeeps
Nick's JK was a Sahara, bone stock with the OEM street tires.
Harry's JK was a Rubicon, only 400 miles, completely stock with the 32″ BFG Mud Terrains.
Mike's JK – the jeepfan.com JK Rubicon.  3″ BDS Lift, 35″ BFG Mud Terrains, AEV wheels and bumper, Winch.
Nick, Harry, and their Jeeps have never been off road so we had a brief trail-riding lesson to get them started and soon we were on the trail.  We stuck to the green trails for a while and I found a few opportunities to show off what a lift and larger tires will do.
We came across a section of washed out trail that provided some good test of a vehicles flexibility.  Of course we each need to stop and snap some pictures.
A little more roaming around in the park we found ourselves on a blue rated trail and started to get in some more difficult sections.  I was a bit worried about the stock Jeeps and thier lower ground clearance but the guys and their Jeeps did great.  With a little spotting we made it through with only a few sounds of the underside meeting rock.
We stopped and grabbed a bite to eat on the trail and soon after we headed back to a little play area on the power line.  This area is a series of steep hills and a large mud hole.  I took a shot at the hill with the log but couldn't do it.  It is very eroded and would take something with larger tires and a crazy driver.
Since springtime is quickly approaching the folks at Rausch Creek are getting ready for another season.  Check back in the coming weeks for more off-road adventures here.  Coming up real soon is OK Auto's Rock Krawl event.  Click the link to see more.