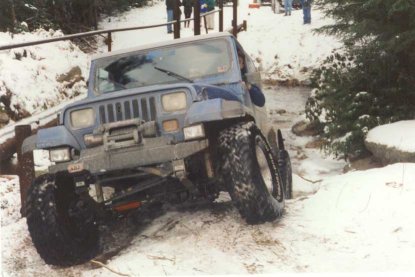 Here you have it a great way to start of the New Year, though I did choose not to attend the fun but cold (so I heard) New Years Eve Paragon activities! Crawling out of bed at 6:00am doesn't work very well when you get home at 3:30am from your own New Years Eve activities.

Back to the subject at hand. Being the first to arrive at the pre-designated 9:00am meeting spot, I had plenty of time to tank-up, air-down and grab a snack. Then before any loneliness set in, the gang started to arrive. We started our walk in the woods about 10:00am, and getting warmed up on the snow covered pre-trail. Within the first hour we had some damage action with a broken trans cooler spilling it's red blood in the snow, which was mortally fixed by means of bypassing and not using it in our 30 degree weather. Then moving right along, someone was making mention via CB to the fact they could not control their steering properly. We found it interesting to find the steering rod bent against the front axle. Bending it somewhat straight with a handy dandy winch,

enabling him to drive it out to camp. I was saddened to see this fellow and his equipped Defender call it in for the day after only about an hour and a half of trail riding. (It wasn't a jeep, ahem! but it could have been any one of us.) Some of us also looked at "Eliminator Hill" though no-one was willing to attempt it in the ice and snow conditions. I really don't think anyone wanted to purposely roll and roll and continuously roll their vehicle. After going through a rocky, ice covered mud trail that a stock TJ tempted to bypass. Also where my foot broke though the ice while walking to take a picture. Getting to change my black-mud-covered-freezing-cold-wet socks and boots were first on my list before continuing any further. While going though this section myself, I heard a voice say "I want those tires!!!" Having 33X10.50 TSL Swamper Radials, I have no complaints with their trail, mud, snow, rock worthiness! Though on the highway going 65 mph or so, top or no top… I won't go any further, that's why I have at set of BFG AT's for normal street driving.
Continuing on with a couple of driver changes and some slipping and sliding, we came across the highlight, (for me anyway) "The Pipeline Crossing".
With a nice dip into the stream, then to come out of the stream into an overflow/creak type area which consists of ice covered rocks, a three step climb out at the other side, and all this time there's the actual pipe on your passengers side. A couple of tires hit the pipe on the way but there wasn't any body damage that I'm aware of anyway. A Cherokee broke the front axle U-joint,


hence that axle shaft had to be removed to prevent any damage on the drive home, in two wheel drive I must add. I was personally satisfied with getting across Pipeline and only getting hung on one rock that seemed to have lost it's ice covering due to undercarriage scraping/winch dragging, which the ice was actually helping out in this particular situation. I'll explain: when your left rear tire would go over this rock, your rear would slide down it to the right, putting you closer to the Pipe but in a good position to continue up the first step-climb out. My tire did not slide, which put me in a slightly impromptu position, but with a little twisting action (Thanks for the Picture Deb!)

I climbed out of the first step. On the second step I laid into


my V8 power and ended up spinning my tires away near the top (idiot move!). I then stopped and slid back down hitting a rock with my hitch and gas tank skid-plate. At this point, I then proceeded to 'crawl' up step two and three without a problem. Noticing Bill with his geared down YJ, I believe he was the only one to crawl through the Pipeline section without a glitch.

Way to go Bill! In my opinion, the really cool thing here is that everyone attempted to pass this Pipeline Crossing. Though we had some Rpm's revving, undercarriage scraping, a broken front axle U-joint, and a fair share of winching going on. Everyone made it across somehow, even the long wheel based full size GMC pick-up!
NOTE: Anyone using the pipeline crossing please stay off the pipeline walkway.
UPDATE: The Pipeline Crossing is closed Stay Out
There were also a few Jeepers that attempted to ascend "Eliminator Hill", one I know, without any lockers. Needless to say they didn't make it very far, but I did hear someone say on the way back down, that "he was never so scared in his life!" They did make it back down safely.
Just another day at Paragon, both myself and Mike R. drove home without dash lights, and I also slightly bent my steering rod, but a fairly clean jeep otherwise. I must say that Paragon is a real groovy place and that every time has been a great time for my jeep and me. Thanks for the invitation, and to everyone for all the sensibility and team work! It was also a pleasure to document some of this trip!
L8r,
Glenn