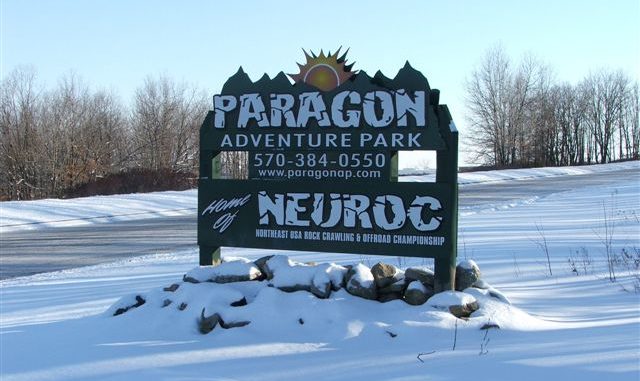 UPDATE: This property appears to have never opened, no news as to the reason.
UPDATE:May 2007, The old park may be closed for good but a new location is now open. The new location is in Zion Grove, PA and is currenty open only to 4X4's. Access is by reservation only.
See the Paragon Closing page to catch up on the story.

According to the Paragon Adventure Park website a new location is now open in Zion Grove, PA. This page will serve as an information site as we gather up all we can about the rebirth of this great park. We know that a new location can never be the same as the old but I am sure the Knosps will do all the great stuff they did to make Paragon the place it was.

click for larger image
Map showing relative location of the phase 1 location to the old park.
More info from Paragon
Paragon Adventure Park presents a new location for dealership outings, large events and large group rides. This new area is geared toward SUV/4×4 vehicles. Sorry, no ATV/dirt bikes at this time. We plan to acquire more land in the near future for ATV/dirt bikes.
This new location has a beautiful setting. It is close to the Hazleton hotels and right next door to the Red Ridge Lake Campground.
This location will be guided to all groups as the trails are not easy to follow. The cost of the guide is included in your admission price.
We are taking reservations for groups/events. These reservations are on a first come first serve basis and are already being booked. If you are interested in a date, please contact us at reservations@paragonap.com. If you would like to book during the week, we ask that you have a group of at least ten vehicles (the cost will be a minimum of 10 vehicles). Saturdays and Sundays will be reserved for our larger groups and events. Anyone with less vehicles may slide in on short notice if we do not have anyone booked.
After Memorial Day, we will post some pictures so you have an idea of what kind of terrain to expect. Please don't misunderstand, this is not a replacement to our Oak Ridge Road location. The terrain and layout is very different. There is not a lot of "crazy" stuff, however, there are very difficult trails. We are not gearing this toward the buggies and rock crawlers. This is a true trail riding area.
If you have any questions, please feel free to e-mail reservations@paragonap.com.
We thank you all for your support and for sticking with us through this trying time.
According to Paragon Management, they are diligently discussing other options with other land owners and have located property in all four directions of Paragon. So even if Paragon AP doesn't have one large park opened, they hope to have four smaller ones perhaps closer to where "you" live. According to Kyle Knosp the first piece they are opening will be near Red Ridge Lake Campground.
Some images from the past
Paragon Adventure Park
info@paragonap.com
www.paragonap.com
570-384-0550
Related Articles
Paragon Adventure Park Closed – The Final Days – Main Story
Photo Album – February 3, 2007
Photo Album – February 4, 2007
jeepfan.com Paragon Adventures Over the Years and some others too!