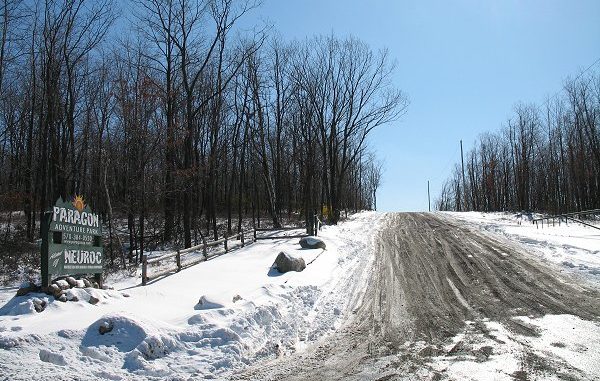 We have compiled a list of articles that outline the closing of Paragon Adventure Park.
Links and News

Links to articles, news, and sites dealing with Paragon's property dispute.
Official Paragon Adventure Park sites
www.paragonap.com
www.saveparagonap.com
In the News and on the web…
May 2007
Paragon has opened a new location in Zion Grove, PA.
For now the new location is only open to 4X4's and by reservation only.
See the Paragon website for more info.
04-05-07
TIMES LEADER: Off-road-vehicle park forced to close again court briefs
"An off-road-vehicle park near Hazleton must shut down again after failing to file court documents in a case.  The owner of Paragon Adventure Park has been embroiled in a legal battle with Gladstone Partners LP over the lease on the land.  Gladstone said Paragon should be evicted from the land because it breached its 25-year lease. Gladstone plans on building a $1.6 billion cargo airport on part of the land.  Paragon has denied breaching the contract.  But a district judge still evicted Paragon from the land"…click the above link for the entire article

02-18-07
TIMES LEADER: Few winners, many losers in proposed cargo airport
The recent announcement that Gladstone Partners, state Rep. Eachus and the Luzerne County Commissioners intend to develop a cargo airport in lower Luzerne County should be a cause for concern to area residents.  Like many past economic development initiatives, it sounds at first like the answer to our prayers for a brighter future. But as the saying goes, "be careful what you ask for, you just might get it."…click the above link for the entire article
TIMES LEADER: Off-road park shutdown will have a ripple effect in hobby
Many have mentioned how much money has been left in the town of Hazleton while at Paragon Park, whether it be for food, shelter, fuel or what not.  But this goes even further than the city of Hazleton. We invest a lot of money into our rigs and the sport. This is our lifestyle that once again is taking a huge hit…click the above link for the entire article
TIMES LEADER: Media should focus on loss of Paragon
After a failed attempt to contact state Rep. Todd A. Eachus, I would like to encourage the media to spotlight the feelings of the off-road community. Off-roading is not just a hobby, it is a passion. And this passion boosts local economy tremendously. You may not know this, but Paragon Adventure Park attracts visitors from all over the nation…click the above link for the entire article
02-11-07
TIMES LEADER: Park owner: I'm made out to be bad guy
Kyle Knosp says attempts to cooperate with supporters of the proposed cargo airport so he can keep his business in area have failed.  Paragon Adventure Park owner Kyle Knosp says statements made about him in an ongoing court battle with cargo airport promoters are unfair and damaging to his reputation.
"They got the press to say that I didn't pay rent and I was a squatter. That was a blatant lie," he said…see the entire article
Related Articles
Paragon Adventure Park Closed – The Final Days – Main Story
Photo Album – February 3, 2007
Photo Album – February 4, 2007
jeepfan.com Paragon Adventures Over the Years and some others too!