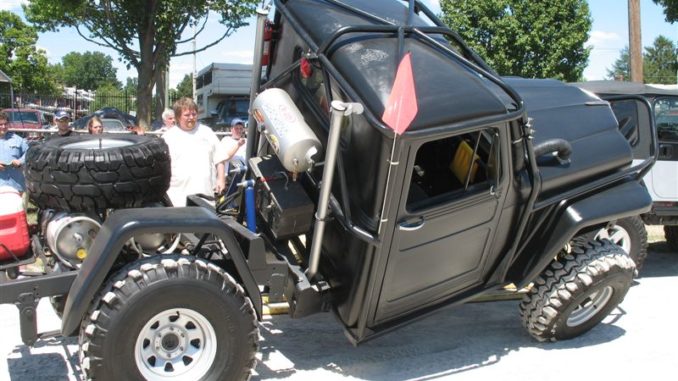 Page 6. For the past 12 years the PA Jeeps have been hosting an All Breeds Jeep show at the York County Fairgrounds in York, PA. The date was July 21 & 22, 2007.
main – page 2 – page 3 – page 4 – page 5 – page 6 – page 7
THE RTI RAMP
Another spectator favorite. The RTI ramp is a test of a vehicle's articulation. Articulation is the term used to describe a vehicles ability to twist the suspension. Greater articulation allows a vehicle to keep all wheels on the ground keeping traction.
The ramp is a single wheel ramp that a vehicle drives up either forward or backward. The vehicle proceeds up the ramp until a wheel lifts off the ground and looses traction. A score is derived from the length up the ramp divided by the vehicle wheelbase. Typically longer vehicles will score lower due to the wheelbase.
The Twisted Willys equipped with a split frame could almost drive off the top of the ramp. Definitely fun to watch.
More show pictures..