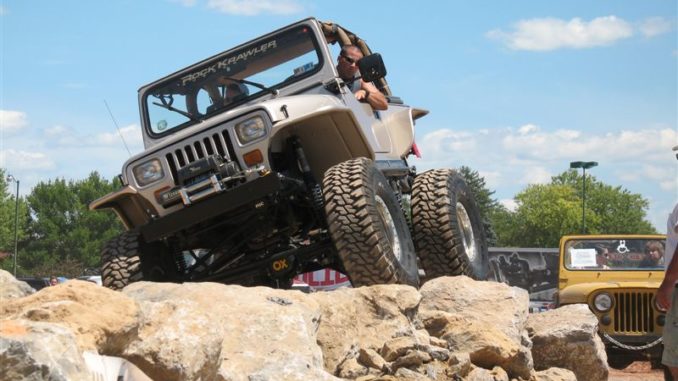 Page 4. For the past 12 years the PA Jeeps have been hosting an All Breeds Jeep show at the York County Fairgrounds in York, PA.  The date was July 21 & 22, 2007.
main – page 2 – page 3 – page 4 – page 5 – page 6 – page 7
THE FAN FAVORITE:  THE OBSTACLE COURSE  Like most of us Jeepers we like to take our Jeeps over the nasty stuff but sometimes we enjoy sitting back and watching some of the crazies take their Jeeps over the rocks.  The sound of metal scraping over jagged rocks is even more pleasant when is on someone elses Jeep.
The PA Jeeps have an obstacle course set up for all the show participants to test out and play with their Jeeps.  The course consists of several dirt mounts simulating all kinds of varying terrain.  Terrain like off camber trails, articulation humps, and hill climbs.  There is also a log bridge to cross and a nasty rock pile.
The rock pile is usually the spectator favorite.  About 100 feet of large boulders loosely arranged make for a difficult and ever changing challenge to most Jeeps.  There is the usual carnage and breakage that keeps the crowd cheering.
With so many Jeeps at the show the line to get onto the course stretched nearly all the way around the fairgrounds.  The wait provided many opportunities to talk to others about their Jeeps.
Check out some obstacle images..