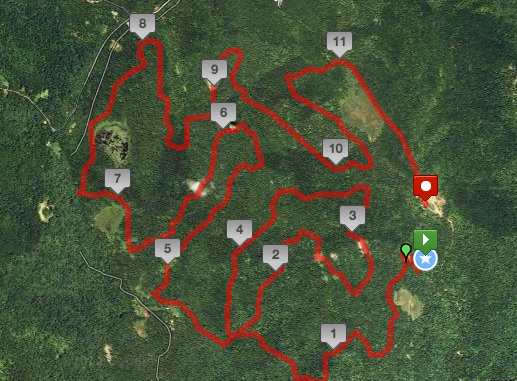 The Tar Hollow grounds are essentially a main 18 mile loop through the woods with hero loops containing varying challenges and difficulty that branch off the main trail and return.  Some of the hero trails contain deep mud/water holes, steep hills, and rock fields.  There is plenty to keep everyone happy.
The main loop is do-able with most stock Jeeps when dry but when wet the trail turns slick and muddy.  Luckily it was wet and even the main trail became a challenge to moderately modified vehicles.
It took us more than 6 hours to go 12 miles.  We never did get to finish the full 18 due to time.  On several occasions our progress was slowed or stopped by difficult obstacles.
One area in particular around mile 8 was a steep curving hill climb that challenged everyone.  The slick mud made ascending the hill tough, it seemed that only properly aired down tires and front a rear locker equipped vehicle were the ones that made it.
Not to forget our love for the tech gadgets I used MapMyRun to GPS track our progress through the day.  You can see on the map how the trail weaves back and forth through the woods.  According to the GPS there were over 900 feet elevation changes at some spots. Please note: the Tar Hollow property is private.
Enjoy the pictures from the trail.