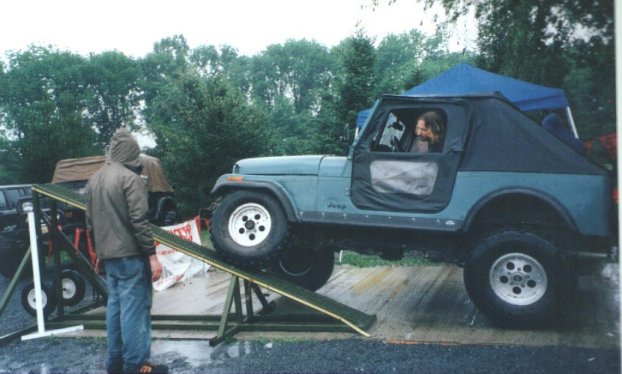 Presenting the official jeepfan.com post-Rock Krawl 2001 trail report. Of the years I have been off-roading I have never been exposed to wheeling-in-the-rain like this. Let me say it can be very miserable, fun, and challenging at the same time.
Saturday – Martin's Creek and Endless Rain.
I awoke Saturday to a gloomy day but no rain. I left home for OK at 6 am to meet up with group I was leading through one of the OK properties at 7 am. I arrived at OK and people started showing up. We all lined up and had a brief meeting and off we went. Then the rain came, it started raining just before we left and never really stopped the rest of the day. I had never been to this property when wet, dry it is not a big deal but wet it was a sloppy mess. What fun was in store for us.
We arrived on the trail head and disconnected, locked, aired down, etc…I dove down into the first obstacle, the bathtub. This section is a deep hole with two separated lines. Needless to say with all the rain, leaves, weeds, and mud I was stuck immediately. I turned on both lockers and went nowhere. The mud had a consistency of chocolate pudding, right away I knew what kind of time we would have. I maneuvered around and tried several times on the one line. I had no luck and became distracted by all the people following me providing colorful comments about their trail leader stuck already. (ha-ha) I backed up and decided to give the second line a try and over the top I went side swiping a tree in the process, no damage. The rest of the group followed, some bypassing the obstacle. We ended this small loop after some winching and pushing.
The next obstacle "Viagra" consisted of a very steep decline where the vehicle would come very close to an iron pipe protruding from the ground. This obstacle was more un-nerving than difficult.
After a while of getting everyone through this section we move onto "Kitchen Table". This small loop consists of a deep hole filled with small round river rocks (a). On a normal dry day a group could reach this point in about 45 minutes. I looked at my watch and over two hours had past!
We regrouped and entered "Garbage Trail", this section is so named because it served as a local trash dump for who knows how long. Almost anything can be found here. This trail led up to another deep hole "Glenn's Trail" (b & c) with a hill known for high centering vehicles. This section provided a good amount of entertainment as everyone attempted it.
With time running out we did the last obstacle, a steep hill consisting of round river rocks, near the top of the hill is a small tree that can be clipped easily by getting off the path. The rain seemed to make this hill easier, but fun none the less.
We grouped up and prepared for our ride back to OK to enjoy the rest of our day watching the Rock Pile, talking to others, and relaxing in the rain. Several make-shift tents were constructed for some rain relief. (d)
OK's Saturday event features all kinds of activities to enjoy. There is the Rock Ready Challenge, this is a competition among vehicles that measures several factors (e & f). These include front and rear departure angle, ground clearance and RTI.
There also is a huge rock pile that has several massive boulders in the middle that provide plenty of carnage.
Thanks to Glenn and Brian for the great pictures.