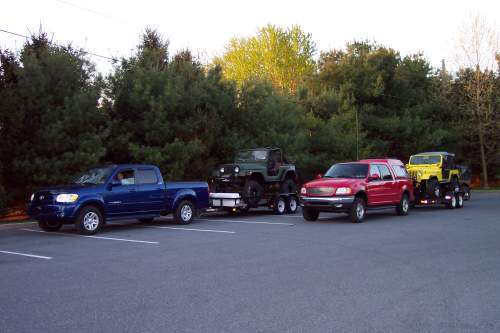 OK Auto's 4X4 2006 was held at Rausch Creek Off-Road Park in Joliette, PA on April 29th and 30th.  It was a perfect weekend of trail riding.  Clear skies, warm weather, and good company made a weekend one could possibly dream for. Page 2
Rausch Creek Off Road Park offers 1700 acres of varying off-road trails that can satisfy the simple trail runner, mud lover, and rock lover.  This trail report is assembled like a photo album recounting our experiences from this exciting weekend.
If you were here during this weekend and have some pictures or stories to share click here to send us a message.
Our group's departure Saturday morning.


On the trailer, ready to go

OK 4×4 Tour 2006 Staging Area

The staging area was a busy place during registration.  Everyone was preparing for the trail.  Hissing was heard about everywhere as drivers aired down their tires.  Swaybars and tops were removed.  For some of us this was the first time out this year so butterflies were looming too.

All vehicles were lined up in groups and a quick drivers meeting went over park rules and safety items.  Soon after the groups started departing for a day of fun.


Very nice Scrambler with 3rd row seating

A spare body?

Well ventilated!

Nice Liberty!

Even full size trucks were on hand.

OK, OK, not a Jeep but a true 4X4

Hmmm

Drivers Meeting
OK Auto 4X4 Tour 2006 Event Index