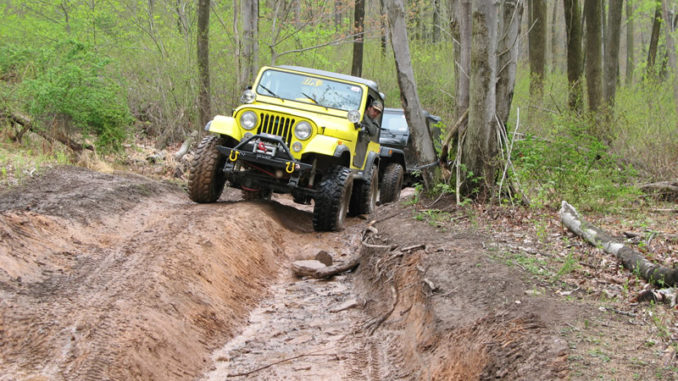 Day 2, Part 4 – April 27 Rausch Creek Off-Road Park, Joliet PA. To close out the day we stopped at the Rausch Creek competition rock crawling course. We got a close-up look at how the massive rock piles are laid out. Mark even took a test drive on one of them.
It was time to air up, load up, and pack it up and head for home. It is amazing on how smooth pavement can feel after a day on the trail. The folks at Rausch Creek have really stepped up the quality of their park. They are continuing to improve an add trails. Thanks go out to OK Auto and Rausch Creek for putting this event together.
There were eight vehicles in our group. Three TJs, three CJs, a YJ(hybrid with coil springs), and a 4 door JK. All the Jeeps were equipped with 33″ tires and larger. Most had at least one locker and all had experienced drivers. We had no carnage, breakage, or body damage – a pleasant day for all.
One problem though – the jeepfan.com JK. The JK's rear locker didn't want to turn off. It took a considerable amount of time for the locker to finally free up. A trip to Sands Auto (where the Jeep was purchased) and a look over by one of their technicians it was determined that the locker was defective and would be replaced under warranty.
For more information visit



Rte 57
Stewartsville, NJ
908-454-6973