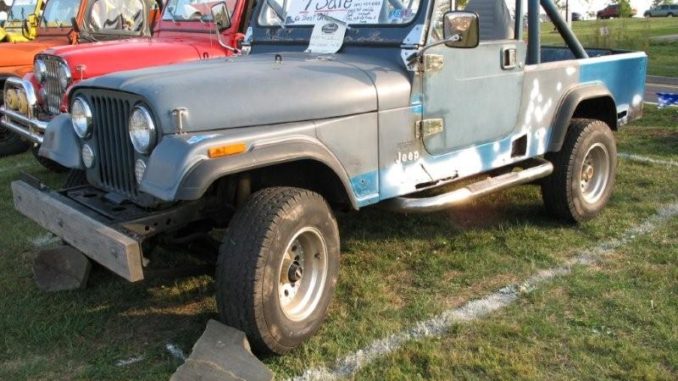 Page 7. For the past several years a small Jeep shop in eastern PA has been hosting a Jeep show that just seems to keep growing and growing.
The Strange, Unusual, and Plain Cool
In this section we point out some of the strange, unusual, and plain cool things we find on Jeeps and around the show.  It never seems to amaze us some of the creativity and sick minds out there.
Mike's CJ-7 Race Jeep
Now we have featured this Jeep here at jeepfan.com but it was nice to see it cleaned up and on display for others to enjoy.  This Jeep is built for competition and is equipped with an AMC 401 and a slew of other race goodies.  See more detail about this Jeep in the article Mike's CJ-7 Racer
Close-ups and cool stuff
Jeff Daniel's Diesel Conversions
Jeff Daniel's has the TJ diesel conversion down to a science.  Talk to them 1st before taking one on.
Close Ups
Just strange and WTF?

Where's the water?

Mudiest

Who knew they made Swampers that small?

Rustiest

Hood prop or clipper?

Always good advice

dunno?

Wider is better

Lowered CJ? – Still strangely cool
Fire Jeep
This CJ-5 was apparently used by a fire department.  It has some interesting characteristics.
Thanks go out to Jeff Daniel's Jeeps for putting on another great show.  These guys have the right idea.  If you have a project to much for you to handle or need some parts and accessories give them a call or visit their website.  See you next year!
Jeff Daniel's Jeep Customizing
495 Indian Creek Road
Harleysville, PA. 19438
215-256-8090

Show Index
Main Page
Page 2 – The Show
Page 3 – Featured Jeeps
Page 4 – Vendors
Page 5 – Awards & Fireworks
Page 6 – Photo Album
Page 7 – Strange, Unusual, and Cool