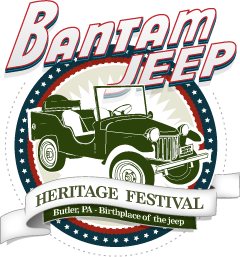 The Bantam Jeep Heritage Festival is organized by the Butler County Tourism & Convention Bureau and a group of committed volunteers and Jeep enthusiasts who want to create a signature annual event celebrating Butler, Pa.'s role as the birthplace of the jeep.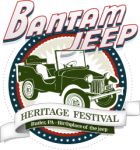 The Festival will take place in Downtown Butler and at the Butler County Fairgrounds along Route 422, just west of Butler.  The goal is to create a premier annual event that attracts Jeep enthusiasts from all over the Mid-Atlantic region.
This event will be held August 12-14, 2011.
Spectator admission is $7 each day.  Children's admission for ages 3-12 is $3 each day.  Children 2 and under are free.  Parking is free.
Participant information and sponsor information can be found on the Bantam Jeep Heritage Festival website.
For more details including a schedule of events and lodging information visit.
http://www.bantamjeepfestival.com/
Check back here after the event for pictures and stories.