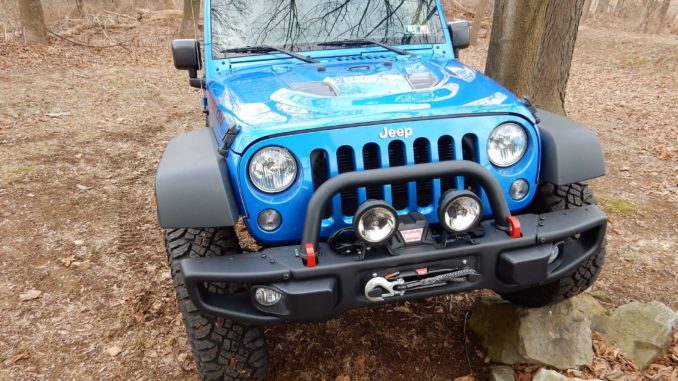 Continuing from page 2 the winch is installed and wired up and the bumper is nearing the point of being reinstalled. According to the directions a small part of the front of the bumper needs to be trimmed away. The amount will depend on the age of the bumper. Luckily this area is covered by the Maximus-3 fairlead mount/anchor.
Begin with removing the plastic Rubicon filler plate and prepare for trimming.
With the hard part out of the way we are left with some little things like the light brackets and the hoop. It's important to install the hoop reinforcement brackets loosely and prepare to install the bumper.
With the bumper loose secure the hoop to the holes
Almost there, with everything on tighten everything up. We followed up by installing a set of lights to complete the project. More on the KC Lights to follow.
To recap, we installed the following Maximus-3 components we picked up direct from Maximus-3.
0400-007XHO – X Style Hoop
0400-011P-CV – Centered Winch Mount
0400-020ALB – Light Brackets
0400-024WHA – Winch Hoop Anchor (Synthetic Line Only)
0400-015FTP-S – Standard Filler Plates
The winch and lights we picked up from Quadratec.