Jeff Daniel's Jeeps held their annual all Jeep show at their facility in Harleysville PA on Sept. 30th 2006. The show is open to all Jeeps and the registration was FREE!  Page 2.
Along with the Jeep show, there was entertainment for all ages including a live band, prizes, food, magician, moon-bounces, and a spectacular firework show to cap off the day.  A Jeep event held the way things should.  Not an event to miss!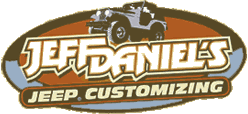 The day wasn't looking good, Gloomy, cool, overcast, and threatening of rain.  I packed up the Jeep and set off for the show hopeful that the rain would hold off.  Upon arriving at Jeff Daniel's I could see Jeeps littering the grounds.  All were arranged by class.  I seemed the turn out was good even though the weather wasn't cooperating.

CJ Section

YJ Section

XJ Section

ZJ Section

Vintage Jeeps
New Jeeps – Lansdale Chrysler/Jeep was on hand with sales information and a few new Jeeps.  There were 2 4 door Wrangler JK's for all to see.  They seemed to draw much attention.
jeepfan.com review on the new 4 door Wrangler JK
76 – 86 CJ and Scrambler Section
jeepfan.com pick for nicest Jeep
The above yellow CJ-7 was clean, meticulous, and very well thought out.  We'd ditch the tube bumper though.
Jeff Daniel's 2nd Annual Jeep Show 2006 Event Index