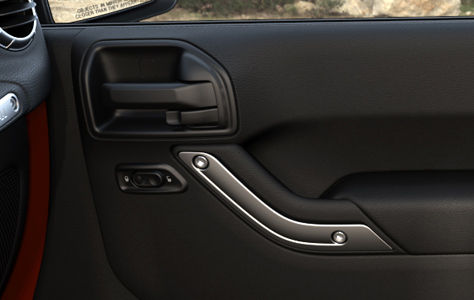 QUESTION: I've got an 08 Unlimted X and have a question about the power locks. I want to get an "add-a-trunk" and most of those are lockable based on the tailgate being locked. Problem is, if the top is off, the power lock switch is accessable on the door and switching it unlocks the tailgate. Any thoughts or instructs on how to bypass the power lock on the tailgate? Chad
ANSWER: Great question with a good answer. The Jeep designers thought ahead here and designed the power lock switches to deactivate when the Jeep is locked with the remote. So, if you park your Jeep, get out, lock it with the remote, the internal switches will no longer work. Furthermore if someone would climb into the Jeep and try to open a door the alarm will go off. The rear gate cannot be unlocked from the inside. Your stuff in the add-a-trunk should be as safe as possiible.
UPDATE: You need to wait about 20 seconds for the lock switches to deactivate. Thanks for doing some further testing Chad.