Wrangler JK Handling Problems after Lift
QUESTION: I recently purchased a 2008 4dr JK Wrangler from an out-of-state dealer. It has a 4″ lift with 35″ tires and KMC bead locker wheels. I have noticed that on long sweeping left turns the Jeep very often feels like you've gone over a patch of ice and it is unable to hold a line. It is very scary. Also very often the ABS brakes kick in for no apparent reason. The dealer is clueless.  Does anyone know what this might be? Please advise. Chris P.
ANSWER: Often after lift a Wrangler JK the owner or installer overlooks the absolute need to correct the steering wheel alignment.  The Jeep's computer uses steering wheel position to determine the direction of the vehicle.  If it's off more than a few degrees the Jeep thinks it is in a slide and uses the traction control system to attempt to correct the problem.  Adjusting the steering wheel position is simple.  There is a threaded collar in the drag link.  Rotating the collar will turn the wheel one way or the other.  It's usually easiest to have 2 people.  One in the Jeep to observe the wheel the other turning the collar.  See below.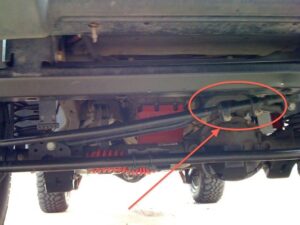 Comments