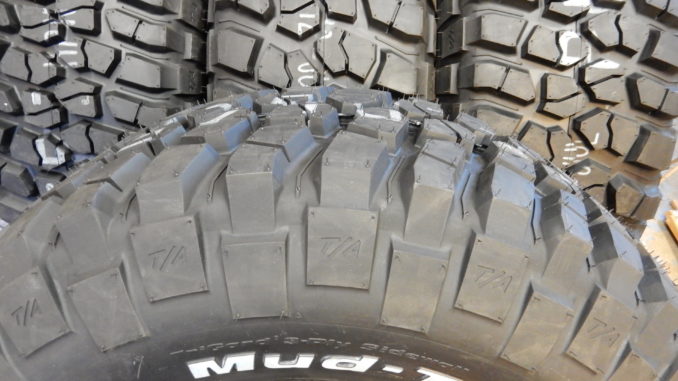 I have given a lot of advice over the years on what tires to buy but now I find myself losing sleep over what tires to put on the new JK. A few days ago we installed a
2.5″ TeraFlex Budget Boost
kit on the JK and now it's time for tires.
The considerations here are as follows:
Size – I do not want tires too large to kill the already lacking power from the 3.8L but I can't see spending the bucks on a tire that's only 1″ larger than the stock BFG's. I am thinking 35″
Noise – The BFG's are noisy. Now I have had Jeeps for years and understand "all mud tires are noisy" and I am OK with noise but why not keep it to a minimum. After all it's a daily driver.
Looks – I still want the agressive look of a mud tire but don't want the extreme.
The Toyo Open Country M/T tire seems to be the favorite here. Several sources have reviewed these tires with favorable results. They seem to be agressive but less so than most mud tires. Even though less agressive off road performance is still solid. JP magazine reported their road noise to be comparable to a BFG All-Terrain.
One disadvantage is that the Toyo tires are notably heavier than comparable tires, something in the 15lbs per tire heavier.
Next is size choices. The Toyo tire comes in two sizes close to what I am looking for…
-295/70R17 – That equates to 33.3″ X 11″
-33X12.5R17 – The actual Toyo reported size is 34.8X12.5
That's an reported 1.5″ difference in the two sizes and a 2.7″ difference from the 32.1″ on the stock BFG's. Perhaps a 225 RPM reduction at 65mph.
Anybody have an opinion?