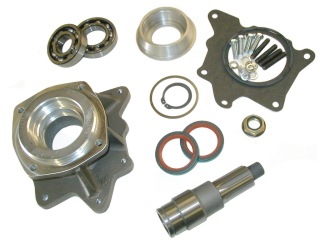 QUESTION: What do I need to put a TH350 transmission in my 1977 CJ-7 with the 258 I6 and a Dana 20 T-case? Mike D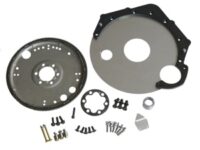 ANSWER: Several companies offer adapters for this popular conversion. Novak Adapters are probably the best on the market. In this conversion you will need two adapters. The first adapts the TH350 to the AMC engine and the second adapts the TH350 to the Dana 20.
The engine adapter – Novak 437AMC-1 kit is a plate style adapter that is precision laser cut and machined. Included are the crank spacer, flexplate, flexplate spacers, flexplate reinforcement ring and fastening hardware.
The transmission adapter – Novak 103 kit will adapt a TH350 to a Dana 20 utilizing a compact adapter casting, several bearings, and seals.
In general this is a popular conversion that will yield excellent results. The adapters will cost you though. You will be looking at a cost of just under $1000 for both adapters. Plus drive-shafts would most likely need to be lengthened/shortend to accomodate the added length.
Another option that would be less expensive and require no adapters would be to find a Chrysler 999/Dana 300 combo that was already in a Jeep. The 80-86 CJ-7 was available with this transmission/transfer case combo. You would be looking at a near bolt-in job. You could probably find factory drive shafts too.