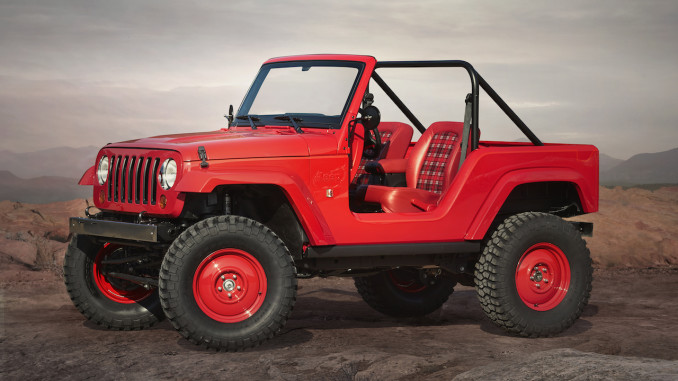 Jeep® and Mopar Unveils Seven Concept Vehicles Built for 50th Annual Easter Jeep Safari, Vehicles Showcase a Wide Variety of Mopar and Jeep Performance Parts.
These new vehicles are as follows…
Jeep® Crew Chief 715: a salute to legendary Jeep military service vehicles
Jeep Shortcut: inspired by the classic CJ-5 to handle tight, winding trails
Jeep Renegade Commander: built to blaze a trail deep into the secluded wilderness
Jeep Comanche: designed to be off-road ready with practical utility
Jeep FC 150: heritage cab-over design, rich in history and capable of tackling any terrain
Jeep Trailcat: Hellcat-powered off-roader capable of crawling or high-speed runs
Jeep Trailstorm: added capability with 2-inch lift kit, 37-inch tires and Dana 44 axles
Some of these vehicles are really interesting..it's a shame that most we will never see.
From FCA Press Release
March 10, 2016 , Auburn Hills, Mich. – Seven new, ultra-capable Jeep® concept vehicles, featuring an array of Mopar and Jeep Performance Parts available to consumers, will conquer the famous and challenging trails of Moab, Utah, at Easter Jeep Safari, March 19-27. Thousands of off-road enthusiasts are expected to descend upon Moab this year to celebrate what will likely be the most popular Jeep Safari ever, as the 50th annual event coincides with the 75th anniversary of the Jeep brand.

"Every year, the Jeep team looks forward to pushing the limits with new, exciting and capable concept vehicles for our most loyal enthusiasts at the Easter Jeep Safari in Moab, where we receive a tremendous amount of valuable feedback," said Mike Manley, Head of Jeep Brand – FCA Global. "This year is extra special, as together with our biggest fans, we celebrate Jeep's 75th anniversary, as well as the 50th running of the Jeep Safari. We're delighted to share seven of the most capable and eye-catching concept Jeep vehicles we've ever created at this year's historic event."

The 2016 crop of Easter Jeep Safari concept vehicles utilizes both production and prototype Jeep Performance Parts. The Mopar brand is responsible for developing, building and ensuring that all Jeep Performance Parts meet rigorous specifications and with 4×4 capabilities in mind, allowing Jeep owners to further enhance their stock vehicle.

"These seven vehicles have been modified with Mopar and Jeep Performance Parts to take on the toughest trails, to go beyond where the road ends," said Pietro Gorlier, Head of Parts and Service (Mopar), FCA – Global. "Mopar's mission is to provide all FCA US vehicle owners with unique performance parts and accessories  to tailor vehicles to their individual lifestyles. Nothing supports that more than demonstrating how we can equip Jeep owners to take on some of the more extreme trails in the world."

The seven new Jeep concept vehicles built for Moab this year were created by a team of dedicated, passionate engineers, designers and fabricators that have been customizing production vehicles since 2002, and have introduced more than 50 concept vehicles for the enthusiasts who attend the popular Easter Jeep Safari.
Details of the concept vehicles.
Jeep Crew Chief 715
The Jeep Crew Chief 715 is a salute to Jeep military service vehicles like the Kaiser M715.  Based on the Wrangler Unlimited this open aired concept displays heritage styling with a modern flair.
Sporting 20″ beadlock wheels with 40″ NDT military tires, steel front and rear bumpers and many other goodies like an on-board air system.  To add to underneath beef there are front and rear Dana 60 axles under a 4″ lift.
Jeep Shortcut
Our favorite out of all of these concepts, this Jeep is a throwback to the beloved CJ-5.  Look at the front and rear approach/departure angles!  The Jeep is based on a Wrangler JK running Dana 44 axles and a 2″ lift.  The 17″ steel wheels with BFG Mud Terrain KM2 tires keep that classic CJ theme. #want
Jeep Renegade Commander
This little Renegade adds some off-road accessories to help get you over the rough stuff.  A 2″ lift, Rubicon wheels, skid plates and 29.5″ BFG All Terrain KO2 tires are the functional stuff as well as some interior and exterior flair to set the Jeep apart.
Jeep Comanche
Now this is just cool..Jeep, please build this.  Based on the Jeep Renegade with a 2.0L diesel mated to a 9 speed automatic.  This Jeep is a throwback to the Cherokee based Comanche.
Jeep FC 150
So they took a classic FC150 body and mated it to a TJ Wrangler chassis.  A tried and true 4.0L I6 mated to a 3 speed automatic make up the powertrain.  33″ BFG Mud Terrain tires on 17″ wheels attached to front and rear Dana 60's get the power to the ground.
Jeep Trailcat
Not super impressed by this..it's just another trail buggy.  The 707 HP 6.2L Hemi and 6 speed manual are probably the redeeming qualities of this thing.  Can you say 4WD burnout?
Jeep Trailstorm
Basically a Wrangler Unlimited with 37's and a 2″ lift.  This is how all JK's should come.  High clearance flares and super-cool wheels make us almost forget the 8 bit camo paint.
All in all these concepts are just great.  Each one pays tribute to the Jeep brand that we all love.  So, we would like to see the Shortcut, the wheels on the Trailstorm, a Hemi, and the Comanche.