We are all bound to experience the "old busted bolt in the threaded frame hole" or similar scenario while working on our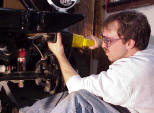 Jeeps. There is a bit of a knack dealing with these buggers, sometimes a little pre-work and patience will prevent a broken bolt. Using heat, penetrating sprays, and special tools will help you deal with this.
I get many questions dealing with this topic, a while back we did an article on this. Check it out.
Full Article: Removing Seized Nuts and Bolts
Related Section: jeepfan.com Guide to a Jeeper's Garage – Hand Tools