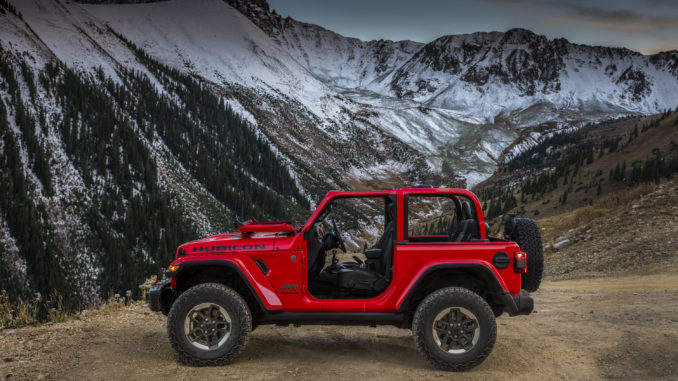 FCA teased us with three images of the new Wrangler and honestly we are quite happy. After spending some time close studying these pictures what almost seems like is a natural evolution is there and it's obvious Jeep does their homework. Still not sold on the body line down the side under the window but that's about the only thing.
Some notable items that most of us have known about from the folks at JLWrangerForums.com that we are finally seeing for real.

The sport bar shown here still has structure to the front even with the windshield folded forward along with a color matched, well…shell? It will be interesting to see if this is just for show or for real.
A new wheel style, perhaps for the Rubicon. Can still see the Jeep icon printed on the wheel in red.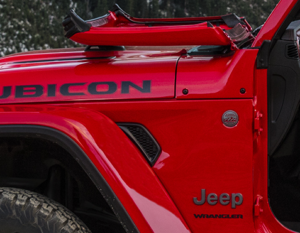 The folding windshield was a question for quite some time as to whether there would be one. Funny but this seemed to be the least of people's concerns since most Jeep owners never bother. The vent behind the front flares is functional and attractive. The return of the Jeep letters to the side of the Jeep is a nice touch.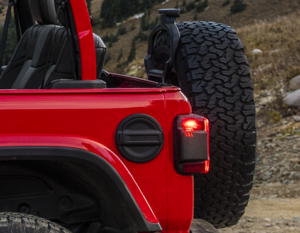 The new tail light design as well as the fuel filler cover has arrived as expected.
What else?
The pictured Rubicon flares have great looking color matching with black accent styling. The flares also appear to be larger cut than the Sahara, maybe not. Not sure at this point if these are Mopar options or standard on the Rubicon – this also seems to be a Rubicon Hard Rock.
Both the Rubicon and the Sahara seem to have raised sections in the middle of the hood area. The standard hood on the Sahara is almost TJ like.
Rant
As always, spend a little time on social media and you will see the love that the vocal people out there have for the new Wrangler. Yes, this is sarcasm. The vocal people always hate on what's new.
Fun comments…
Doesn't even look like a jeep anymore……….you can keep it.

Appears to be an improvement over the current JK line. Love the full cage and easy access windshield. But as a Jeep owner I am forced to hate it, since it is the newest model.

Ridiculous

No I do not and won't.
Having been around the Jeep community like forever this is nothing new. People hated the TJ but almost immediately they were most popular on the trail. People hated the JK but almost immediately they were most popular on the trail. This will continue. We have loved all the varieties of jeepfan.com Jeeps and when the eventual JL joins the line that will likely be loved too.