tech
Jeep Liberty
lift kits and lockers
WANTED: If you have a Liberty and modified it in some way we want to feature you. Click here to send us a message.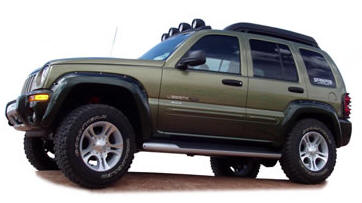 Liberty with Skyjacker 2.5" lift LIB250K
Several manufacturers produce lift kits and lockers for the Liberty. Below is a list of links to help you find them.
Lift Kits
Lockers and Limited Slips
The Liberty uses a Dana 30 front axle and a Corporate 8.25 rear. The Dana 30 has been used in Jeep CJ, Wrangler, Cherokee, and Grand Cherokee for many years making lockers and limited slips readily available.
Liberty information
Liberty accessories