Main
>>
Transmission
>>
Identification
>>
Ford
>> T-18
The Ford version of the T-18 was used approximately from 1967 until 1984. It is a heavy duty four speed manual transmission that is available in wide and close ratio, but I've only seen the wide ratio version in Ford trucks. The transmission weighs close to 150 pounds.
The case and the top of the transmission are cast iron. The Ford version uses the standard Ford "butterfly" bolt pattern and a 1 1/16" 10 spline input shaft. The input shaft is around 6 1/2" long. The input shaft is about 1/2" shorter than the Jeep T-18 input shaft. The closely related Ford T-98 typically uses a fatter input shaft. The drivers side of the case will be cast with T-18 or 13-01. If you click on the top thumbnail, you can see the 13-01 casting number in that picture.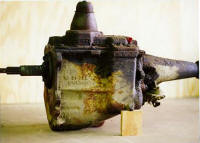 Ford 2wd T-18 long tailshaft.
Photo by Jeepin Joe Heinrich.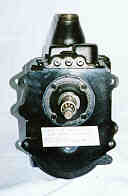 Ford T-18 front view. Ford T-18s have a slightly different bolt pattern than most Jeep T-18s. The drivers side lower bolt is lower on the Ford version. The Ford pattern matches the T-150 and T-176.
There will normally be a PTO cover plate found on the passenger and/or drivers side. There are two shift patterns used, one where reverse is out and up and the other where reverse is out and back. The out and back is the later version.
There are generally two styles of output for the 2WD version of the Ford T-18, the long slip yoke style shown in the top picture and a short regular yoke style. The 4WD versions of the Ford T-18 tend to use long adapters and 31 spline outputs.
| Transmission | 1st | 2nd | 3rd | 4th | 5th | Rev |
| --- | --- | --- | --- | --- | --- | --- |
| T-18 | 6.32 | 3.09 | 1.69 | 1.00 | | 7.44 |