Jeep JK Wrangler Review – Part 4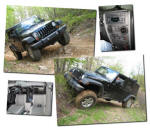 An in-depth look at the new JK Wrangler. Inside, outside, on the trail, and on the road.
We took the opportunity to visit some trails in the central PA mountains to do an in depth review of the new JK. We already did a trail debrief from the OK Auto Grand Reopening weekend but this would be a little different. We were going to dig into the nitty-gritty details of all aspects of the new JK. From street driving to trail driving to likes and dislikes, and even driver perspective and passenger perspective.
Specifications
General Information

Vehicle Type

4-Door Sport Utility

Assembly Plant

Toledo, Ohio

EPA Class

Multipurpose vehicle

Engine:

3.8-Liter, OHV, 12-Valve SMPI V6

Availability

Standard

Type & Description

Six-cylinder, 60° V-type, liquid-cooled

Displacement

230.5 cu. in. (3,778 cu. cm)

Bore x Stroke

3.78×3.43 (96×87)

Valve System

OHV, 12 valves, roller followers, hydraulic lifters

Fuel Injection

Sequential, multiport, electronic

Construction

Cast-iron block, aluminum alloy heads

Compression Ratio

9.6:1

Power (SAE net)

205 hp (153 kW) @ 5,200 rpm (53.9 hp/L)

Torque (SAE net)

240 lbs-ft @ 4,000 rpm

Fuel Recommendation

Unleaded regular, 87 octane (R+M)/2

Oil Capacity

6 qt. (5.7L) plus filter

Coolant Capacity

13.36 qt. (12.64L) Std.

Emission Controls

Three-way catalytic converter, heated oxygen sensors, electronic EGR and internal engine features

Meets Tier 2 Bin 5 (federal) and LEV 2 (CA) emission requirements

Electrical System

Alternator

160A

Battery

600 CCA, maintenance-free

Transmission:

NSG 370—Manual, Six-Speed Overdrive

Availability

Standard—All models

Description

Synchronized in all forward gears and reverse, multirail shift system with top-mounted shift lever

Clutch

Hydraulic actuation

Gear Ratios 1st

4.46

Gear Ratios 2nd

2.61

Gear Ratios 3rd

1.72

Gear Ratios 4th

1.25

Gear Ratios 5th

1.00

Gear Ratios 6th

0.84

Gear Ratios Reverse

4.06

Axle Ratio

3.21 Std., 4.10 Opt. (Std. on Rubicon)

Overall Top Gear

2.69 Std., 3.44 Opt. (Std. on Rubicon)

Transmission:

42RLE—Automatic, Four-Speed Overdrive

Availability

Optional

Description

Electronic governor, electronically controlled converter clutch

Gear Ratios 1st

2.84

Gear Ratios 2nd

1.57

Gear Ratios 3rd

1.0

Gear Ratios 4th

0.69

Gear Ratios Reverse

2.21

Axle Ratio

4.10

Overall Top Gear

2.83

Transfer Case:

NV241 Command-Trac

Type

Part-time

Operating Modes

2WD High; 4WD High; Neutral; 4WD Low

Low Range Ratio

2.72:1

Center Differential Type

None

Transfer Case:

NV241OR Rock-Trac

Type

Part-time, heavy-duty

Operating Modes

2WD High; 4WD High; Neutral; 4WD Low

Low Range Ratio

4.0:1

Center Differential Type

None

Dimensions And Capacities

General Overall Length

173.4 (4404.4)

Overall Width
(without mirrors)

73.7 (1872.9)

Overall Height, Hardtop

70.9 (1,800.1)

Wheelbase

116.0 (2946.4)

Track, Front

61.9 (1,572.3)

Track, Rear

61.9 (1,572.3)

Overhang, Front

26.7 (679.2)

Overhang, Rear

30.6 (777.9)

Maximum Payload
(includes occupants & cargo)

1,000 lbs. (373 kg)

Curb Weight

Wrangler X, Man. Trans

4075 lbs. (1848 kg)

Wrangler X Auto. Trans

4100 lbs. (1860 kg)

Wrangler Sahara, Man. Trans

4269 lbs. (1936 kg)

Wrangler Sahara, Auto. Trans

4294 lbs. (1948 kg)

Wrangler Rubicon, Man. Trans

4315 lbs. (1957 kg)

Wrangler Rubicon, Auto. Trans

4340 lbs. (1969 kg)

Accommodations

Seating Capacity, F/R

2/3

Front Headroom

41.3 (1,048.4)

Front Leg Room

41.0 (1,040.3)

Front Shoulder Room

55.8 (1,416.7)

Front Hip Room

55.6 (1,412.8)

Seat Travel

Driver–9.4 (239.5), passenger–9.4 (239.5)

Front Volume Index
cubic ft. (cu. meters)

54.6 (1,545)

Rear Headroom

40.4 (1026.2 mm)

Rear Leg Room

37.2 (  944.9 mm)

Rear Shoulder Room

56.8 (1442.7 mm)

Rear Hip Room

56.7 (1440.2 mm)

Rear Seat Volume Index
cu. ft. (cu. meters)

49.4 (1.40 cu. m)

Cargo Liftover Height

31.4 (  797.6 mm)

Maximum Cargo Width at Swing Gate Opening

58.7 (1,490.4)

Minimum Cargo Width at Swing Gate Opening

37.0 (939.2)

Maximum Cargo Height at Swing Gate Opening

37.1 (943.5)

Minimum Cargo Height at Swing Gate Opening

37.0 (939.2)

Distance Between Wheelhouses

44.7 (1,135.6)

Cargo Volume
cubic ft. (cu. meters)
Rear Seat Installed

56.5 cu. ft. (1.60)

Rear seat folded

86.75 (2.46 cu. m)

Rear Seat Upright

46.43 (1.31 cu. m)

Body And Chassis

Layout

Longitudinal front engine, four-wheel drive

Construction

Ladder-type frame, open steel body

Suspension

Front

Live axle, leading arms, track bar, coil springs, stabilizer bar,
low-pressure (on 16-inch wheel packages) gas-charged shock absorbers—std.; Monotube high-pressure (on 17- and 18-inch wheel packages) gas-charged shock absorbers—std. Rubicon;
Electronic Sway Bar Disconnect System (ASDS) opt.


Rear

Live axle, trailing arms, track bar, coil springs, stabilizer bar, low-pressure (on 16-inch wheel packages) gas-charged shock absorbers—std.; Monotube high-pressure (on 17- and 18-inch wheel packages)  gas-charged shock absorbers—std. Rubicon


Steering

Type

Power, recirculating ball with damper

Overall Ratio

16.7:1 overall

Turning Diameter (curb-to-curb)

34.9 ft. (10.62 m.)

Steering Turns (lock-to-lock)

3.5

Brakes

Availability

Standard—All

Power Assist Type

10 (254) single-diaphragm vacuum

Four-Wheel Anti-Lock with on- and off-road calibrations

Standard

Electronic Stability Program (ESP)

Standard

Parking Brake Type

Drum-in-hat

Front Size and Type

11.9×1.1 (302×28) vented rotor with 2.6 (66) single-piston floating caliper

Swept Area (total front)

190.8 sq. in. (1,230.97 sq. cm.)

Rear Size and Type

12.44×0.47 (316×12) solid rotor with 1.9 (48) single-piston floating caliper

Swept Area (total rear)

55.4 sq. in. (357.6 sq. cm.)

Wheels

Availability

X Standard

Type and Material

Painted Steel

Size

16×7.0

Availability

X Optional

Type and Material

Painted Cast Aluminum

Size

16×7.0

Availability

Sahara Standard

Type and Material

Painted Cast Aluminum

Size

17×7.5

Availability

Rubicon Standard

Type and Material

Machined Cast Aluminum

Size

17×7.5

Availability

Sahara Optional

Type and Material

Painted Cast Aluminum

Size

18×7.5

Tires

Availability

X Standard

Size and Type

P225/75R16, On/Off-Road, Black Side Wall

Mfr. and Model

Goodyear Wrangler ST

Revs per Mile (km)

712 (1,146)

Availability

X Optional

Size and Type

P245/75R16, On/Off-Road, Black Side Wall

Mfr. and Model

Goodyear Wrangler SRA

Revs per Mile (km)

687 (1,106)

Availability

Sahara Standard

Size and Type

P255/75R17, On/Off-Road, Outlined White Lettered

Mfr. and Model

Goodyear Wrangler SRA

Revs per Mile (km)

661 (1,064)

Availability

Sahara Optional

Size and Type

P255/70R18, On/Off-Road, Outlined White Lettered

Mfr. and Model

Bridgestone Dueler 693

Revs per Mile (km)

653 (1,051)

Availability

Rubicon Standard

Size and Type

LT255/75R17, Off-Road, Black Side Wall

Mfr. and Model

BFGoodrich Mud Terrain

Revs per Mile (km)

650 (1,046)
Vehicle Clearances
Clearances

P225/75R16

P245/75R16

P255/75R17

P255/70R18

LT255/75R17

Approach Angle
Degree

40.8

42.0

43.8

44.6

44.3

Breakover Angle
Degree

21.8

23.1

24.9

25.5

25.4

Departure Angle
Degree

37.4

38.7

40.3

40.6

40.4

Front Axle to Ground (inches)

9.1

9.6

10.3

10.6

10.5

Rear Axle to Ground (inches)

8.8

9.4

10.1

10.3

10.2
Comments