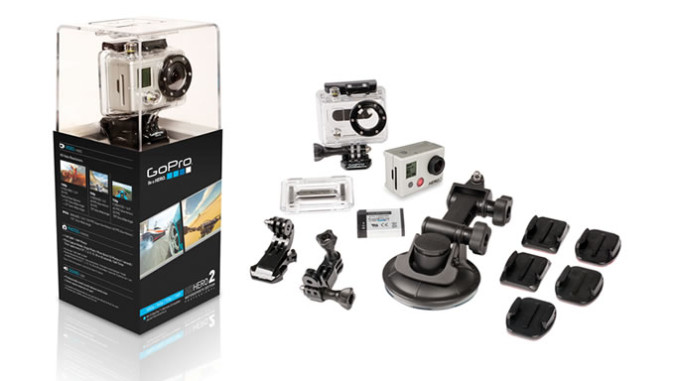 Nothing is more enjoyable tackling some challenging trails and having your vehicle (and you) surviving to tell about it.  Even better, capture the moment on video to relive the experience and prove it your friends.  GoPro cameras help you preserve your adventures.Available in several models including HD, these cameras are easy to mount and/or wear to capture the action.  The Motorsports Edition camera is a perfect accessory for your Jeep.
This edition comes with most of the items you will need to mount and use the camera with your Jeep.
The HD HERO2: Motorsports Edition is the most advanced GoPro camera yet. Wearable and gear mountable, waterproof to 197′ (60m), capable of capturing professional full 170º wide angle 1080p video and 11 megapixel photos at a rate of 10 photos per second, the HD HERO2 is the world's most versatile camera. Whether your goal is to capture footage of a spirited rip through backcountry roads or you want to capture and study lapping footage to learn how to set a new track record, the HD HERO2: Motorsports Edition is going to be one of your favorite motorsports purchases of all time.
What's Included:
1 11MP HD HERO2 Camera
1 Waterproof Housing (197′ / 60m)
1 HD Skeleton Backdoor
1 Rechargeable Li-ion Battery
1 USB Cable
1 Suction Cup Mount
1 J-Hook Buckle
2 Curved Surface Adhesive Mounts
3 Flat Surface Adhesive Mounts
1 Three-Way Pivot Arm
Assorted Mounting Hardware
GoPro Motorsports Edition features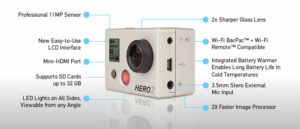 2X More Powerful in Every Way
Professional 11MP Sensor
2x Faster Image Processor
2X Sharper Glass Lens
Professional Low Light Performance
Full 170º, Medium 127º, Narrow 90º FOV in 1080p
120 fps WVGA, 60 fps 720p, 48 fps 960p, 30 fps 1080p Video
Full 170º and Medium 127º FOV Photos
10 11MP Photos Per Second Burst
1 11MP Photo Every 0.5 Sec Timelapse Mode
3.5mm External Stereo Microphone Input
Simple Language-based User Interface
Wi-Fi BacPac™ and Wi-Fi Remote™ Compatible (coming soon)

Long Range Remote Control of up to 50 GoPro Cameras
Wi-Fi Video/Photo Preview + Playback + Control via GoPro App
Live Streaming Video and Photos to the Web
For information and pricing contact OK Auto www.ok4wd.com 908-454-6973