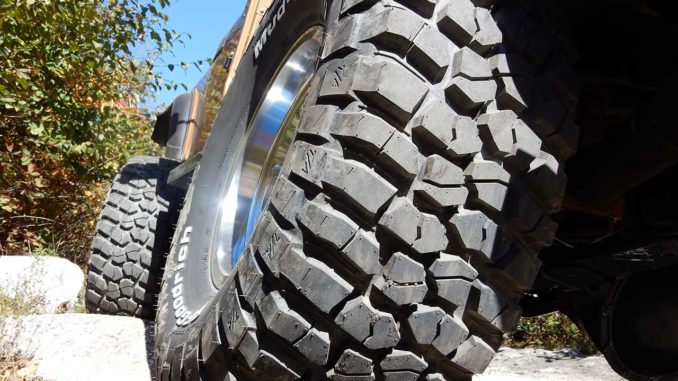 You buy new (and larger) tires and possibly wheels for your Jeep and you wonder what's the proper pressure. It's often different than the stock tires since the larger tires are likely a different weight rating and constructed a bit different. Finding your proper pressure is done by reading the contact patch.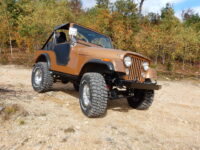 Just how do we do that? There is many ways but we used some a smooth concrete floor, white paper, and some latex paint you can learn what pressure gives your tires the best contact patch and create some cool artwork for your kitchen fridge. We did this test on the jeepfan.com 1978 CJ-5 running 33″ BFG Mud Terrains.
Line up the paper on the floor, taping it down will keep it from moving or sticking to the tire.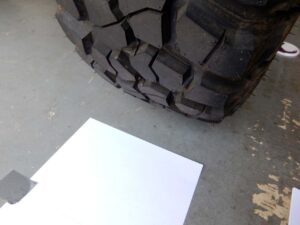 With the tire at 35 psi paint two to three rows of tread.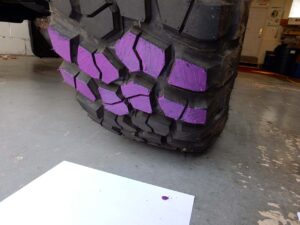 Roll the Jeep over the paper to allow the tire to make an impression on the paper.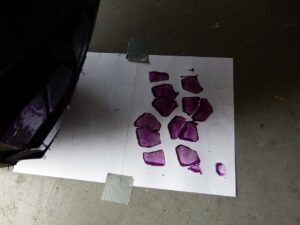 Clean the excess paint off the tire, replace the paper with a clean piece. Using the same tread rows repeat the process over a span of stepping lower pressures. Labeling each paper as you proceed.
Examine the impression, note how the amount of coverage increases as the pressure drops.
It's obvious how the outer blocks become more evident as the pressure drops. Different vehicles and different tires will make different patches. 35 psi on a CJ is too high and will cause the tire to wear in the middle. 18 psi is nice for the trail, see how nearly all of the tire tread is on the surface. This low is probably too low for the street and may even cause excess outer wear and a mushy feel.
24 psi seemed to be the best pressure in the middle. Measuring the patch on the rear may result in different pressure needs, it's a matter of spending the time testing. Our CJ tested about the same front and back so we settled on 25 psi since it provided a good patch and good street feel.