Decoding Jeep CJ VIN Numbers on 1945 to 1968 Jeep CJ-2A, CJ-3A, and CJ-3B. 1945 to 1968 Jeep CJ VIN numbers are usually located in several possible locations. You should find a tin plate on the drivers side firewall and/or on the dash inside the Jeep.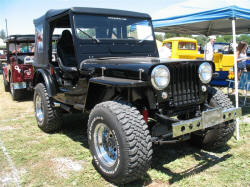 John's 1947 Wild Willy's
The following tables also contain production numbers. Accuracy of the production numbers is unverified.
CJ-2A
1945-1949
The first civilian Jeep.  Production started July 17, 1945
| | | | | | |
| --- | --- | --- | --- | --- | --- |
| Year | Body | Model | Serial No. Starting | Serial No. Ending | Units Made |
| 1945 | CJ-2A | | 10001 | 11824 | 1,824 |
| 1946 | CJ-2A | | 11825 | 83379 | 71,554 |
| 1947 | CJ-2A | | 83380 | 148458 | 65,078 |
| 1948 | CJ-2A | | 148459 | 222581 | 74,122 |
| 1949 | CJ-2A | | 222582 | 224764 | 2,182 |
CJ-3A
1948 -1953
| | | | | | |
| --- | --- | --- | --- | --- | --- |
| Year | Body | Model | Serial No.   Starting | Serial No. Ending | Units Made |
| 1949 | CJ-3A | | 10001 | 37749 | 27749 |
| 1950 | CJ-3A | | 37750 | 63784 | 26034 |
| 1951 | CJ3-A | 451 GB1 | 10001 | 54158 | 44158 |
| 1952 | CJ-3A | 452 GB1 | 10001 | 38652 | 29652 |
| 1953 | CJ-3A | 453 GB1 | 10001 | 20617 | 10617 |
CJ-3B
1953 – 1968
Year

Body

Model

Serial No. Starting

Serial No. Ending

Units Made

1953

CJ-3B

453GB2

10001

37551

27,551

1954

CJ-3B

453 GB2

10001

41292

31,292

1955

CJ-3B

453 GB2

10001

22952

12,952

1956

CJ-3B

453 GB2

22953

34371

11,418

1957

CJ-3B

453 GB2

34372

41591

7,220

1958

CJ-3B

453 GB2

41592

48247

6,656

1959

CJ-3B

453 GB2

48248

57547

9,300

1960

CJ-3B

453 GB2

57548

67473

9,926

1961

CJ-3B

453 GB2

67474

85317

17,844

1962

CJ-3B

453 GB2

85318

91464

6,147

1963

CJ-3B

453 GB2

91465

117202

25,738

1964

CJ-3B

453 GB2

117203

127686

10,484

1965

CJ-3B

453 GB2

129687

131201

3,392

1966

CJ-3B

8105

131202

135888

4,687

1966

CJ-3B

8105

135889

139773+

3884+

1968

CJ-3B

81051

No Information for this year