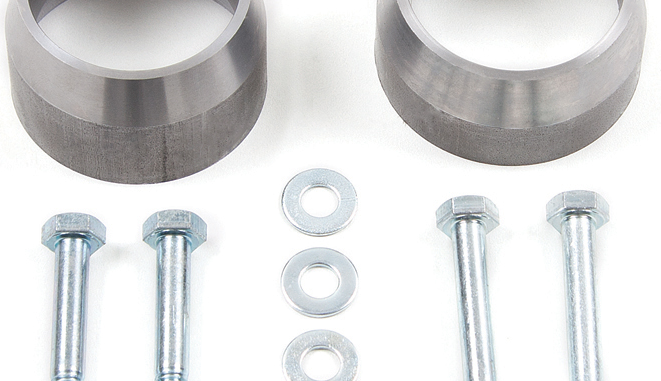 PRESS RELEASE: New for 2012 is the Pentastar 3.6L in the Wrangler and Wrangler Unlimited models. For those of you looking to lift your new 2012 JK, the factory exhaust crossover pipe is in close proximity to the front driveshaft limiting the amount of droop to about 2" before they come in contact with each other.
To combat this problem BDS Suspension has developed exhaust extensions (#124314) to relocate the crossover pipe rearward allowing for addition clearance and full range of motion of the front driveshaft with 3" of lift. The extensions are precision machined from 2.5" x .250" wall DOM tubing to fit the factory ball/taper seat connection properly for a leak-proof seal. Thick-walled tubing is used to ensure the extension will not deform under extreme heat conditions. Longer hardware is included to compensate for the added extension length and allow the reuse of the factory clamp collars. Installation is a breeze and can be done in a matter of minutes with basic hand tools. For more info on this kit, contact BDS Suspension at (517) 279-2135 or bds-suspension.com
#124314 Jeep Wrangler JK Exhaust Extensions 
BDS Suspension products are covered by the exclusive No Fine Print Warranty, and are only available through authorized BDS distributors and www.bds-suspension.com. For a complete list of Distributors or to become a distributor, visit www.bds-suspension.com or call 517-279-2135today!