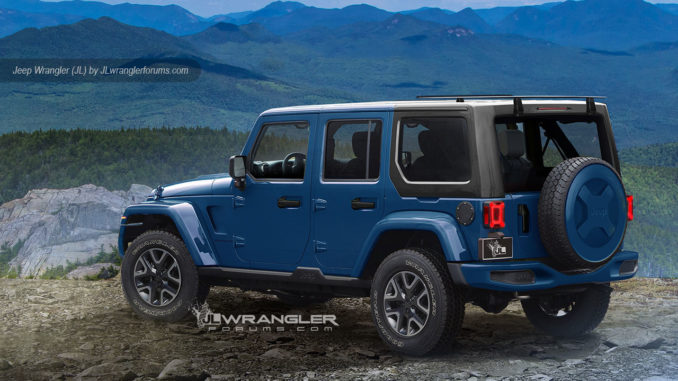 2018 will bring the next version of the Jeep Wrangler. Not much is generally known at this point but we have picked up some details and have been compiling them in this article.
The Jeep will be known as the Wrangler/Wrangler Unlimited JL
January 30,2017
A photo of a non-JK grille appeared on the JL forum looking very much like the grille featured on the JL forums 2018 Wrangler JL renderings.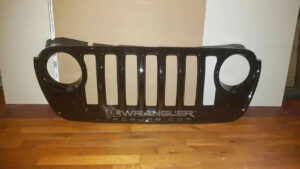 The full article on JL Forums – Leaked: 2018 Jeep Wrangler Grille
January 12, 2017
According to a report from The Toledo Blade, the 2018 Jeep Wrangler is rumored to debut at the L.A. Auto Show. FCA CEO Sergio Marchionne confirmed that the production of the 2018 Wrangler is set to begin in Toledo in November. The L.A. Auto Show takes place during the same month, where Marchionne also suggested that the 2018 Jeep Wrangler could make its official debut.
Needless to say it will be a long summer, stay busy with a Jeep project or some off roading.
January 2017
JLWranglerForums posted from their sources.
Here are the official dates and some confirmed features (so far) for the 2018 JK Wrangler, 2018 JL Wrangler and the 2019 JT Wrangler Pickup. These dates are of course subject to change.

2018 Wrangler JL:

September 1, 2017: 2018 Wrangler JL Sales and Press Launch
October/November 2017: 2018 Wrangler JL Order Banks Open
November 13, 2017: 2018 Wrangler JL Production Begins

2019 Wrangler JT Pickup:

Fall 2018: 2019 Wrangler Pickup JT Production Begins

New Features (for North America):

New ZF 8 Speed Transmission
2.0L "Hurricane" Turbo Engine (with new 850RE transmission) (visual confirmation)
3.0L VM Diesel Engine (with new 8HP75 transmission)
3.6L Pentastar V6 Upgraded Engine (with new 850RE transmission)
New fourth-generation Uconnect 8.4″ navigation system with Apple Carplay and Android Auto
Interchangeable soft / hard top
Power softtop
True 3-piece hardtop
Optional hardtop glass panel

* Updated 01/04/17 with latest info.
November 2016
JLWranglerForums posted some renderings that probably contain some very accurate images of the new JL Wrangler to potentially be unveiled at the Detroit Auto Show in January.
The images are impressive and so far the new Wrangler doesn't disappoint. Much of the JK remains.
JLWranglerForums renderings represent a composite from months of insider source tips, leaks, research and spy photo revelations and analysis. They were modeled from their real life prototypes photos. The major highlights include:
Fixed roof structure with large removable roof panels and removable back windows (from insider sources and previewed in early concept proposal)
Multi-configuration roof as seen in early concept model: full-width panels removed, center piece removed, and all panels installed
Roof/top with angled rear pillar and angled windows (previewed in spy pics and early concept proposal)
More raked windshield
Longer hood (accommodates new 8 speed auto, will be made from aluminum, and may have already been leaked)
Hood bulge/vent – possibly to provide air for 4 cyl turbo and/or diesel (seen in spy photos and early concept proposal)
LED headlights (seen in spy photos and already introduced on current 2017 Wrangler)
Headlights slightly recessed into outer most grille slats (a la CJ Wrangler)
Front grille with "kink" leading to angled top portion (a la TJ Wrangler, seen in spy pics)
European style front bumper (longer and extends up to meet fender flares)
LED turn signal light strips integrated into fender flares (seen in spy pics)
Foglights located more inwards of headlights
New Goodyear tires (switch from current BFGoodrich tires, seen in spy pics)
Retains exposed exterior door hinge mechanism and removable doors
Similar door cut-lines as current model
Tail lights featuring "X" design (seen in the leaked dealer meeting images)
Their JL Wrangler concept also reflects some speculated/rumored features, including:
Flip up/over rear window (based on patent drawings)
Vents behind front wheel flares (helps wheel well air flow while adding some design flair)
This animated image shows the potential roof design/function.
Read more on JLWranglerForums.com
October 2016
AJLWranglerForums.com member posted that they purchased a Hard Rock hood for their Jeep and ended up with a 2018 hood that somehow ended up at a parts in the Detroit area.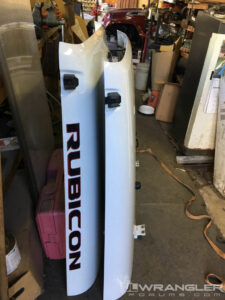 Full Story – Received 2018 Jeep Wrangler JL hood by mistake
Summer 2016
Spy photos everywhere – none without the masking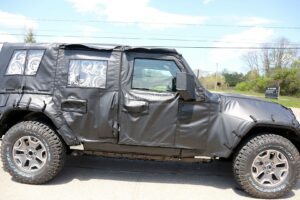 June 2016
The new JL Wrangler will now be a 2018 model instead of a 2017. Dealers are indicating that 2017 ordering info is available and the JK remains another year.
October 2015
Some spy photos were captured of what looks like a current JK but the real story is underneath. Several suspension changes were captured. The image below was featured on Car & Driver..see the full article 2017 Jeep Wrangler Spy Photos.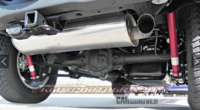 You can see the shocks are located outside the frame rail and the rear track bar seems to be located higher.
September 2015
Allpar reports some details about the roof. A source claims that the traditional soft top will not be. The Jeep will have removable soft panels over a substructure. The substructure will replace the sport bar – can only imagine what this may look like. This is possibly a result of reducing vehicle weight by providing more rigidity to the top of the vehicle and reducing the need for extra rigidity needed for convertibles.
The tail light design will be different, most likely using the x design seen on the new Renegade.
Bumpers and the 5×5 bolt pattern seem safe.
The Jeep will feature the 8 speed automatic Chrysler (850RE) transmission.
June 2015
We have a brief conversation with a Jeep engineer at the Bantam Jeep Heritage Festival. As usual he was elusive but promised that people "like us" will love the new Jeep as much as we love the JK.
Solid axles stay with small configuration changes.
May 2015
Sergio Marchionne states the new Jeep will have an aluminum body.
February 2015
Reports of the 2017 Wrangler not having a folding windshield and the 3.6L V6 is replaced by a smaller turbocharged engine.