On Saturday April 27th 2013 OK Auto held their first event of 2013,  the Spring Show Off and Open House.
Below is a picture of the jeepfan.com 78 CJ-5 at Rausch Creek in 2006.  The Jeep was tackling a rock garden during OK Auto's 4X4 Tour event.  This event was the final trail run for the old Jeep, it's since been cleaned up and retired to preserve it.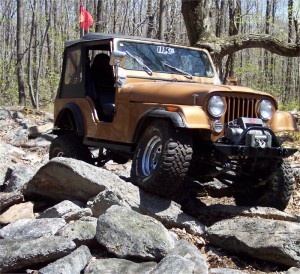 Read more
The Tar Hollow grounds are essentially a main 18 mile loop through the woods with hero loops containing varying challenges and difficulty that branch off the main trail and return.  Some of the hero trails contain deep mud/water holes, steep hills, and rock fields.  There is plenty to keep everyone happy. Read more
The fall 2012 Tar Hollow trip was probably one of the best offroad trips we have been on.  The place, the weather, and the trails all came together to make for a near perfect day off trail action.
Jeff Daniels is holding their annual Jeep show and swap meet on September 29, 2012 at their facility in Harleysville, PA. Read more
This year's Truckfest was a huge success and the crowd seemed to be bigger than ever.  The weather was perfect..65 degrees and mostly sunny.  There were trucks, Jeeps, and other 4×4 vehicles packed into every nook and cranny of OK's property. Read more
October 5th thru the 7th, OK4WD and New Jersey Jeep Association will be heading up to Hancock, NY for a family-friendly weekend of camping and casual trail riding on over 20 miles of trails located on privately owned land in beautiful upstate New York. This event will be open to 125 vehicles and will offer a variety of freshly cut trails built to challenge drivers of all skill levels. This is a great event for novice drivers with stock or lightly modified vehicles. Read more
One of the most popular places at the PA Jeeps show is their obstacle course and RTI ramp.  Both of these give Jeep owners the ability to play and test their Jeep's offroad worthiness and their driving skill. Read more
Enjoy the pictures from around the show. Read more
Well another great show for the 17th year in a row.  The weather was rather pleasant, overcast and cool.  After a day of Friday rain that cooled off the area the overcast skies kept the temperature cool and prevented us from all getting a sunburn. Read more