review
Holley Pro-Jection Review
It's been almost 10 years now that the Holley Pro-Jection has been atop the AMC 360 in my Jeep. It's performance on and off road has been exceptional. I have had no significant problems, a few minor issues, but nothing is perfect. There has always been a debate on which is better, carbs or efi. I am not going to begin to debate that here.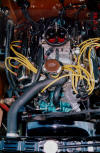 Holley Pro-Jection on a 78 CJ-5 AMC 360
What it's on...
The Jeep has a rebuilt AMC 360 with an Edelbrock Performer cam and aluminum manifold. GM HEI distributor and stock manifolds. Great V8 combo for a trail Jeep.

Why...
I decided on the Pro-Jection for the advantages off-road, some carburetors are unpredictable off road and may cause flooding and stalling. Not something you need when trying to climb a steep hill. Fuel injection systems are unaffected by the angle of the engine or bouncing. Starting is quick and precise too. The Holley system I am using is a rather simple installation with only a few sensors, actually two that need to be installed. The sensors are an engine temperature sensor and tach sensor. There is a controller, throttle body, and electric fuel pump.
Adjustable...
The projection system uses an electronic fuel controller with several knobs to allow fine tuning. You can adjust fuel mixtures, choke settings, and response with ease and while driving.
Problems I have experienced...
Fuel pumps. Actually, I have been through three. I can't blame Holley or the injection system, I blame the fuel tank. Steel fuel tanks in Jeeps are prone to rust and the tight tolerances in electronic fuel pumps that are used with these type of systems do not take well to rust particles flowing through them. These screw type pumps do not provide very good suction so a filter more than a fine screen is not usable on the suction side of the pump. I needed to eliminate the rust so I installed a polyethylene fuel tank in place of the steel. That was 2 years ago now and I have not had another fuel pump problem.
Throttle position sensor...With any component failure is inevitable. This sensor simply monitors the position of the throttle so the controller can regulate fuel flow. When this sensor failed there we throttle positions that caused engine behavior to become erratic.
Conclusion
This system has been as reliable as anything else on the Jeep. If it fails beyond repair I may consider an off-road carburetor like a Holley Truck Avenger but I would probably stick with the injection.
Submit a review about the Holley Pro-Jection
Do you (did you) use this Holley System? If you'd like to offer an opinion of it, you may submit your review using the form below.