reviews
Edelbrock Performer Intake Manifold for AMC V8 Review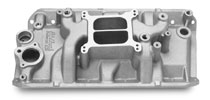 Some info provided by Edelbrock
Performer® Manifolds (idle to 5500 rpm)
Performer manifolds are dual-plane, low-rise intake manifolds with a 180° firing order and patented runner design that you won't find in other brands. This patented design greatly improves torque over a wide rpm range for excellent throttle response, especially off-idle through the mid-range. Throttle Performers are ideal for passenger cars, trucks, 4x4s, tow vehicles and RVs. There are EGR and non-EGR versions available for most domestic V8 and some V6 engines. Most Performer intakes are 50-state street legal, when used with the correct carburetor and in the correct application. Check the individual listings for detailed information.

AMC 290-401 V8
PERFORMER AMC (idle-5500 rpm)
Designed for 1970-91 street 290-304-343-360-390-401 c.i.d. V8 engines. Available with or without EGR. Will not accept stock Motorcraft spread-bore carburetor. #2131 is a stock replacement/street legal part on 360-401 V8s with OEM carb; 1970-72; except stock equipped EGR.

Installation Notes: Recommended intake gasket: Fel-Pro #MS96011. Manifolds have two center bolt holes offset. Manifold height: A-4.20", B-5.50". Port exit dimensions: 1.03" x 2.07". Bracket #8034 required for 1979 and later vehicles.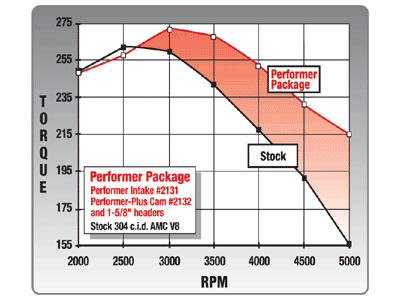 Power Curve Map
This could be the best all around manifold for a Jeep with a V8. It provides good torque and horsepower across it's rpm range. We installed on of these onto Mike's CJ-5 which is equipped with an AMC 360 V8. This engine was tired and needed a rebuild - See the rebuild article - The engine was going to serve in a Jeep that was primarily going to run trails and needed to provide good torque for slow trail riding.
Installation was performed with the engine out of the Jeep and was rather straight forward. An Edelbrock Performer Camshaft and Holley Pro-Jection system complemented the rest of the set up. The Jeep's performance is exceptional. It's trail manners are predictable and provide excellent slow rpm managability.
Submit a review about the Edelbrock Performer Intake Manifold for AMC V8
Do you (did you) use these springs? If you'd like to offer an opinion of it, you may submit your review using the form below.