Rock Equipment Tie Rod Flip Kit
Add 3 inches to your tie rods.
SRC Precision Products Xtreme Steering Rods
Bullet-proof tie rods
BDS Glide Ride 3.5" Wrangler Springs
Long term review on a great set of springs
Powertrax Traction System No-Slip Locker Review
Installed into a CJ-7
Holley Pro-Jection
Long term review of this simple fuel injection system.
Holley Truck Avenger Carburetor
Great carb designed for off-road use.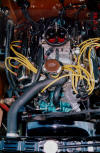 Edelbrock Performer Intake Manifold for AMC V8 Review
Edelbrock Performer RPM Air Gap IntakeManifold for AMC V8 Review

PB Blaster Penetrating Catalyst
Break a stubborn rusty fastener loose fast

Garmin StreetPilot c330 GPS
In-Jeep navigation has never been easier - or more affordable.


QuickAir Deflator from Sun Performance
Oasis Off Road Mfg. Automatic Tire Deflators
Cobra 75 WX ST All-in-handset Mobile CB


Great CB for a Jeep
Firestik No Ground Plane CB Radio Antenna System
A cure for a fiberglass Jeep CB woes
POR-15 Rust Preventative Coating
Control the rust.
Optima RedTop Battery Long Term Review
Super Swamper Trxus M/T Radial
The Trxus Mud Terrain is Interco's answer to the needs of those who do not require the maximum off road traction but want a superb tire with good looks.

Goodyear Wrangler MT/R Tire
Mickey Thompson Baja Claw Tire
BF Goodrich Radial Long Trail T/A
Excellent Street Tire for Jeep vehicles