Tom's 1971 Jeep CJ-5 Renegade II
Tom sent us some pictures of his un-restored 71 CJ-5. This Jeep could use some work but is in surprisingly good shape and would make a Jeep collector drool. The last year of the stubby CJ-5 and the V6.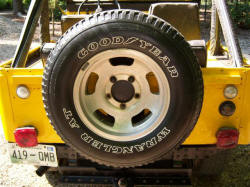 What's in it?
The 71 was the first year for American Motors and the last year of the Kaiser era CJ's. In 1972 AMC made several significant changes to the CJ lineup. This Jeep runs a..
Comments