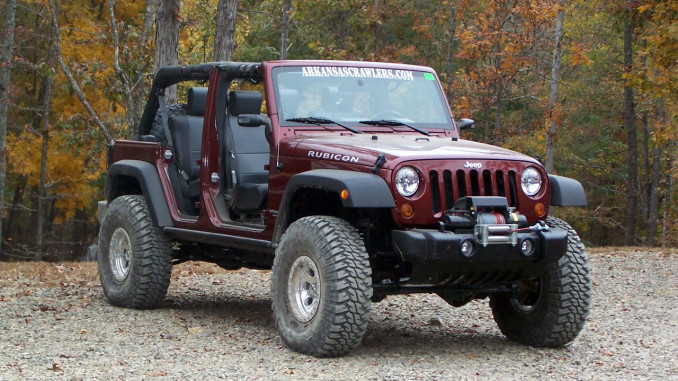 Man, this is a nice Jeep. The Rubicon Unlimited in Red Rock Crystal has an excellent combination of tire size choice, color, wheels just strikes a chord with us.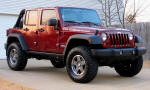 Shawn ordered the Jeep on Dec 2nd and took delivery on Feb 12th.
The Jeep was ordered as follows:
Rubicon Unlimited, Red Rock Crystal Pearlcoat, Gray Interior, Automatic, Dual Tops, Power Convenience Group, Trailer Tow, Front and Rear Mats, Deep Tint, Engine Block Heater, 6-disc Stereo, Sirius, Locking Fuel Cap. "I got it for 1% below invoice using the Affiliate Rewards Program through my employer."
"I started getting my wheels and tires together in December. Some of the 1st mods I did were MOPAR accessories: Slush Mats, Door Sill Guards, Black Fuel Door, and Black Tail Light Guards."
Shawn had a set of Hankook Open Country M/T 315/70/17 (35's) tires mounted on a set of Jeep Commander Wheels on December 29th and they sat in his garage waiting for the Jeep to arrive.
He also had to wait almost a month for a Black Diamond 3″ lift to ship from Quadratec before he could mount the tires. "I used Spidertrax 1.5″ spacers, and I installed the lift, wheels/tires, and spacers in my best friends shop on March 10th with less than 700 miles on the odometer."
Shawn on ride quality and performance after the lift. "IMHO it rides and handles as good as stock, which really surprised me. The larger tires don't cause much of a performance detriment around town. On the highway I can run 80+ MPH easily. Cruising at 70-75 MPH is fine, it will downshift on hills more than it used to, but it's not that bad."
Shawn also had the stock muffler removed and a Magnaflow model 11376, 4×9 oval, 11″ body length muffler installed under the drivers side floorboard for a deeper sound and help the exhaust flow better.
Immediate future plans include an LOD front bumper, winch – perhaps the Warn Powerplant, different rock sliders (possibly home designed and fabricated), and a home built Cold Air Induction kit.
"I also plan to upgrade the rear bumper to something that will better hold the weight of the 35″ tires. Long term future plans include new 4.88 Superior Gears, a roof rack/light bar setup, and a 5.7 or 6.1 HEMI swap (see Shawn's site http://www.AyresWeb.com for a 2001 Ford Lightning he swapped a 32V Navigator motor into, and had Twin Turbos put on it) or a forged/built 3.8 V6 with a turbo. Some sort of upgraded tranny and axles will go along with any substantial power increase as well."
Updated images of Shawn's JK. Now featuring…
37X12.50X17 Goodyear MT/R tires, 15×8 ION 170 wheels, 1″ M.O.R.E. Body Lift, and 5.13 Gears