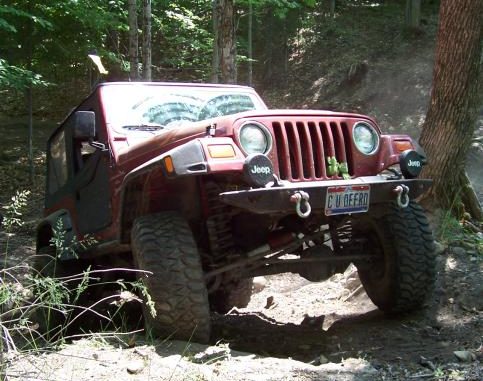 As time goes by we see more and more woman Jeepers out there on the trail. Not only do these women wheel hard but they usually modify and fix their Jeeps too. Karla from Ohio is no exception to this and she is obsessed with Jeeps like the rest of us.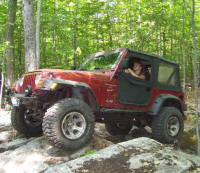 Her 1999 Wrangler TJ is well built for off-road and she uses it. The Jeep is equipped with a 4.0L breathing through a K&N Cold Air Intake and throttle body spacer. Behind the 6 cyl is an automatic leading through the transfer case and on to the 4.56 equipped rears. Traction is enhanced by the rear Detroit True-Trac limited slip.
On the outside 4 corners is a set of 33X12.50 Mickey Thompson MTZ tires on Dick Cepek DC-1 Wheels and holding up the whole works is a Rough Country 4 inch suspension lift. Not to forget the JKS sway bar disconnects and extended brake lines.
Keeping the front, rear, and sides protected is a set of Warn Rockcrawler bumpers and Olympic Rock Rails. To help keep the flying mud under control is a set of 6 inch Bushwacker Fender Flares,
Inside the Jeep is equipped with a Cobra CB and set of Rugged Ridge Neoprene Seat Covers. Finally, Karla just finished applying Herculiner to the inside of the tub.
When asked "What would you like to do to you Jeep next" she replies "What don't I want to do is the better question". Immediate plans include applying POR15 to the frame.
The rest of the list is extensive:
Winch
Dana 44 Front and Rear
Ox Lockers Front and Rear
Borla exhaust and header
Rear disc conversion
35″-37″ tires
More lift of course!
Onboard air
All new skid plates
Some places Karla likes to wheel:
Livingston, Kentucky
Williamsburg, KentuckyLand Between the Lakes Region of Kentucky
Drummond Island Michigan (Turtle Ridge Off Road Park
Nelsonville, Ohio (Wayne National Forest)
From Karla, "I can definitely keep up with the boys though. Even though I just have a limited slip, the Jeep goes just about anywhere. I like to think I am brave, but not stupid. I take a few chances, but only do so fully knowing my capabilities and limitations. In a nutshell, I want to go out and have fun. But I don't have a death wish!"
Karla, we love the flames on the Jeep and what you have done. Keep up the work on the Jeep. See you on the trail.