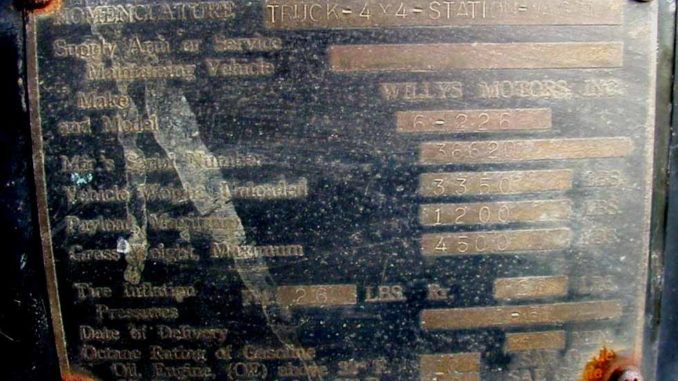 Jim's 1951 Willys Jeep 2-door Station Wagon..Jim has got some questions about this Jeep.
His question: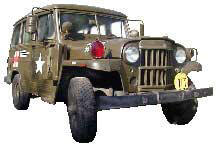 "I am trying to find someone that can help identify my Jeep. I have a lot of "hear-say" info from the original purchaser from the U. S. Army, but nothing in writing to back his story up. I believe it is a 1951 civilian station wagon 4×4, purchased by the Army as an experiment with using them as Litter Carriers. According to Military Vehicles Mag the Army bought 1,000 as a test. It has the military ID tag on the glove compartment door. It was purchased at a Salvage sale at Camp Atterbury, Indiana by a neighbor, when the camp closed in 1954. I bought it from the son of the purchaser. I have "hear-say" from a couple of members of the hospital unit there during the Korean War period, that remember driving it. But nothing of real proof.Any ideas or a place to go to ??"
Here is what Jim thinks about it:
1951 Willys Jeep 2-door Station Wagon, 4 x 4, Hi/Lo, 3-Speed. Differential 5.35 (I don't know enough about vehicles to know if I stated that right – but it has a tag 5.35 on the rear diff.
I was told by the son of the original (civilian) owner that his Dad bought it at a salvage sale at Camp Atterbury, Indiana near the end of 1954 when the camp ceased being a Federal facility.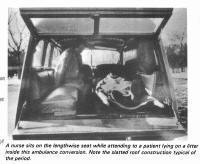 He said the Motor Pool changed out the original 4-cylinder engine with a Super Hurricane straight flat-head 6-cylinder in late 1954. His Dad worked in the Motor Pool. Deceased several years when I found it sitting
behind his barn.
It has a Military ID tag on the glove box (right – click for larger image)
The Editor of the Military Vehicle Magazine sent me the photo (on the left) following my question to him. That was all the info he had.
The motor must be a VERY early model, as it has no oil filter, has never had one, and has no taps available to add one. This was verified by a real mechanic, not me.
An image of the motor on the day Jim bought it. (right – click for larger image)

Final story is that the Military bought 1,000 civilian station wagons and converted to military use, to test as a Litter Carrier (not an ambulance). This one was sent to Camp Atterbury, and carried Korean War wounded flown in to Atterbury AFB, to the Army Hospital at Camp Atterbury, a distance of 25 miles.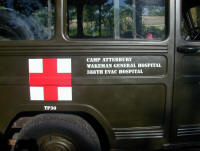 At a reunion of the 388th Evac Hospital Group, which was at the Camp Atterbury Hospital at that time, two members stated they remembered driving it. But I don't know how much I can count on that.
I know this is a lot, and I don't expect you to be able to use it all. Anything you can do to help prove all of this will be appreciated.
One problem, is that I was at work the day the Sheriff stopped by to verify the information so I could get a title. The wife thought I had said it was a 1958, so the title ended up with that date, and the Motor Vehicle Bureau now tells me there is no way to change it. Seems very odd that I can't correct something, but that's what they say.
Jim West
If you can shed some light on this Jeep for Jim, we would like to hear from you.