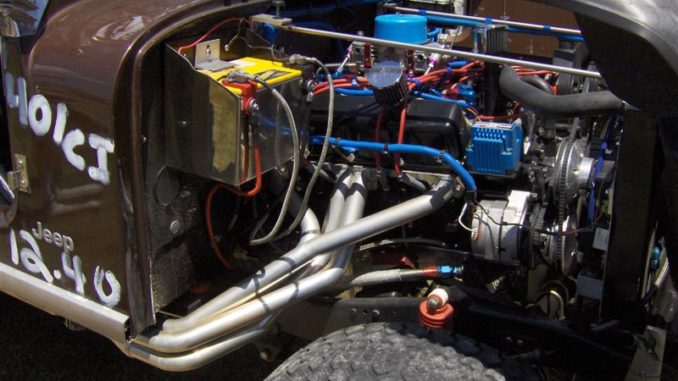 FUZZ401 is what the license plate says and this Jeep is a pleasant departure from the "all we do is go rock crawling" hum drum that is current in the Jeep world. Don't get us wrong, there are still many rocks that need conquering but when we see something like this it needs to be documented. This 12 second CJ is powered by a built AMC 401 V8 and burns up the strip.

Jim (calls himself Fuzz) has owned the Jeep since 1979 and has been playing with it ever since. The AJ deluxe fiberglass one piece front end makes getting to the engine a snap and the AJ deluxe fiberglass tub keeps the rust away.
Fuzz's Jeep was a favorite pick of ours from the 12th Annual PA Jeeps All Breeds Jeep Show and Jim was happy to provide us with more details.

The engine – As you can see from above this isn't your typical AMC engine. It's modified and rebuilt – several times perhaps from seeing some of the pictures. (See right – that used to be a connecting rod) Below is the specs on the engine and transmission.
AMC 401
12:1 Compression Ratio
Flat top pistons – free floating
Bored .030 over
Line bored and balanced
Crower 292 F.D.P.solid lifter cam .500/.510 @.050 duration .246/.250
Crower stainless steel roller rockers with 7/16 studs
Air gaped Edelbrock Torker intake with a 950 Holley Double Pumper
MSD 6AL box and Dizzy plug wires
TH-400 transmission from a Jeep
Mildon SFI billet flex-plate
9 1/2″ 4000 RPM stall converter
The rest of the Jeep – The list doesn't end at the power plant. Beneath the Jeep is a Dana 20 transfer case and Tom Woods CV drive shaft attaching to a Dana 44, Detroit Locker and Moser Axle equipped rear axle. On the ends of the axle is a set of 33X10.50X15 Hoosier slicks. All this sits on a 4″ Skyjacker Lift and a slight body lift in the glass tub.
Inside the Jeep Fuzz created a custom aluminum dash and roll bar fabricated from 2 CJ roll bars. The rear of the roll bar is attached to the frame. Auto Meter gauges, B&M automatic racing shifter, custom seats, and harness finish out the package.
| | | |
| --- | --- | --- |
| cage to the frame | | side bars |
The Jeep has seen off-road use from time to time, the image on the right shows a little fun in the mud. The Jeep can also be seen on a set of Swampers when not chewing up the track.
Jim's best time on the 1/4 mile to date is a 12.059 @ 107.710 and he now is looking to break into the 11's.
Saw Fuzz's Jeep in a recent copy of JP Magazine..this thing gets attention everywhere.