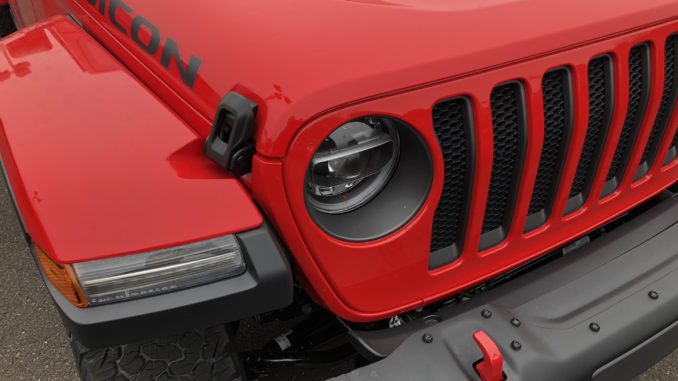 Presenting the newest member of the jeepfan.com family. Our new JL Wrangler Unlimited Rubicon is amazing looking in it's Firecracker Red paint. The new JL has many improvements and features that set it apart from the previous JK model. We are excited to begin a new project to take this JL to new levels and make it one of our own.
In typical jeepfan.com style we will transform this Jeep in to a more capable trail Jeep that can be driven every day. Only useable stuff will be added to keep the costs down and maximize the capability.
The new Rubicon comes packed with features similar to the JK Rubicon 10A, X, and Hard Rock models while adding some more. This includes…
Wider and stronger Dana 210 (front) and Dana 220 (rear) axles with electric lockers and larger brakes.
The larger front and rear brakes feature twin piston 12.9″ rotors in the front while the rear are 13.4″ single piston.
35″ tires will fit with no lift, 37″ tires will fit with a 2″ lift.
High clearance fenders front and rear.
Optional steel bumpers.
33″ BFGoodrich All Terrain KO tires.
The new 8 speed 850RE automatic available on all models features lower bottom gears (4.71:1 1st gear) and the new D478 6 speed features a 5.13:1 1st gear. Both transmissions increase crawl ratio (77.2:1 automatic/84.2:1 6 speed) and slow moving torque, a significant improvement over the JK. The new transmissions make running 37″ tires with 4.10 gears possible with many owners reporting little change in power feel.
The JL comes standard with a 3.6L Pentastar V-6 with 285 hp and 260 lb-ft of torque with a flattened powerband bringing peak torque earlier in the rpm range.
The jeepfan.com 2018 JL Wrangler Unlimited Rubicon ordered specs
3.6L V6 with 8 speed automatic
Firecracker Red
Dual Tops
8 Speed Auto
Cold Weather Group, includes remote start
Steel Bumpers
Leather Seats
Infotainment Group with 8.4″ display
Tow Package
Active Safety Group
Keyless Entry
Body Color Flares, Black Top
Couldn't pass up an opportunity to play in some fresh snow.
The Jeep looks great with the 33″ BFG KO2 All Terrains but we will never stick with stock. A whole list of mods will be coming to this Jeep in the near future.