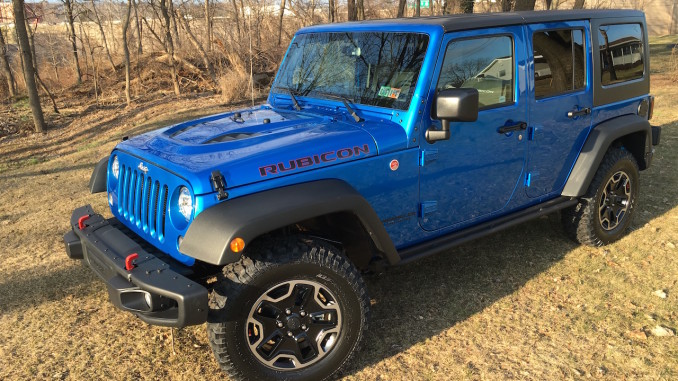 The jeepfan.com 2016 Wrangler Unlimited Rubicon Hard Rock is the 3rd JK Wrangler to join the jeepfan.com list of Jeeps. The Rubicon Hard Rock was introduced in 2015 as a spin off to the Rubicon X which was a spin off of the awesome 2013 Rubicon 10th Anniversary. In the jeepfan.com fashion we will keep this Jeep in an "everybody" Jeep style. We will focus on the types of modifications and enhancements that most Jeepers can afford and keep the Jeep able to be a daily driver as well as an awesome trail Jeep.
And now the Jeep and options…
2016 Wrangler

Unlimited

Rubicon Hard Rock
Hydro Blue
Automatic
4.10 gears
Dual Tops
Remote Start
The Hard Rock package comes with so many standard features there wasn't much to add. Some of the highlighted features…
Heated leather seats
Alpine premium sound
Steel bumpers

Front and rear

lockers
Electronic disconnect front sway bar
so much more
The Jeep was custom ordered and arrived at Sands Auto in Quakertown, PA 31 days after ordering.
Future plans
We love Teraflex products and we decided to outfit this Jeep with many components from Teraflex. Teraflex has been making premium Jeep products since 1996. They have been known for their innovative products that solve problems and improve the Jeep in many ways.
Teraflex Goodies

Tires
We ran the Goodyear Duratrac tires on the jeepfan.com 2012 Wrangler Rubicon and had awesome results with them.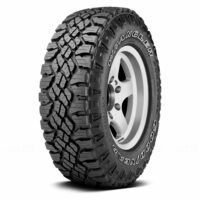 This tire is so universal on a Jeep, it works wonderfully in all kinds of driving. It was natural that we would use these again. This time we are opting for the 315/70/R17 size which essentially is the 35″ tall tire.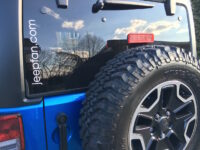 Wheels
The Rubicon Hard Rock wheels are so good looking on the Jeep we are going to retain them. This saves money and keeps the Jeep in a stock-mod look. While the tires are spec'd to be mounted on at least an 8″ wheel many Jeepers have run these tires on the stock 7.5′ wheels with excellent results.
Installing the 35″ tires on the stock wheels requires spacers to prevent rubbing. We installed a set of Teraflex 1.25″ Wheel spacers to take care of the problem.
Handling
After the lift was installed the Jeep tended to wander a bit from the reduction in caster angle. We installed a set of Teraflex Lower Sport Flexarms to correct the caster angle.
Bumper Modifications
The Hard Rock includes a steel winch ready bumper that is begging for a winch to be installed. We installed a hoop, winch mount and light brackets from Maximus-3. Maximus-3 JK Bumper Mods.
Winch
As part of the bumper project we installed a Warn VR10-S winch.
Lighting
In addition to the winch a set of KC HiLiTES 6″ Pro-Sport Gravity LED Lights Model 644 we added for extra lighting and good looks.
Off Road
We've taken some opportunities to run Jeep through the woods at AOAA and as expected its performance was flawless.
The Master List