If you want a full history on this CJ-7 visit the Mike's Jeeps section to find out where it started.

Quick specs

Chevy 350, Holley Pro-Jection, Edelbrock Performer Intake and Cam, Heddman in-frame short headers, T176, and Tera-Low

Since Glenn became owner of the Jeep he has added many improvements. The list includes a Rancho 2.5inch lift with Dick Cepek Race Series shocks, Detroit EZ-Locker, stainless brake lines, K&N filter, Optima Battery, 1 inch Daystar Body Lift, and a Currie steering brace. Recent additions include a AGR steering box and a Windbreaker Bikini top. Additional goods are BFG 33X12.50 All Terrains for the street and a set of 33X12.50 Super Swamper Radials for the trail.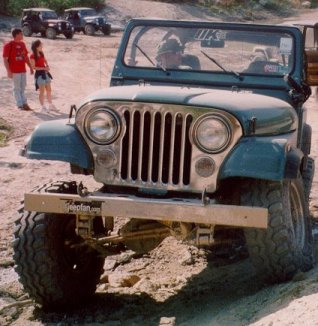 Twistin' at OK Auto's Rock Krawl 1999
| | |
| --- | --- |
| Playing in the snow, Clearfield 1998 | This was actually a test to see if the break lines were long enough. They were tight so new longer break lines were ordered. |
Related articles
Powertrax No-Slip Locker Install

Detroit Locker Install
Installation of the Detroit No-Slip Traction system into a CJ
Wide Track CJ with ARB Air Lockers
78 CJ-5 gets the full treatment. Installation of front and rear ARB Air Lockers and late model CJ wide track axles.
Dana 300 TeraLow
4:1 Gearset for the Dana 300 Transfer Case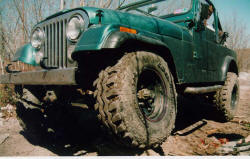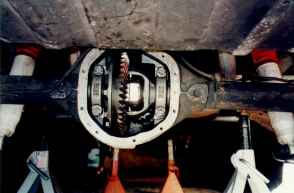 | | |
| --- | --- |
| Messy Messy! | Finished up at Line Mountain Trail Ride 1998 |
Here's a look at Glenn's first Jeep, a 79 CJ-7 with a 3 speed and a 258 6 cyl.