On October 17 and 18th, 2010 the County Line 4X4 Rough Riders held a special race at the Kempton Community Center in Kempton, PA.
The schedule for the weekend includes Saturday drag racing and street stock drags. Sunday will be the obstacle course.
The event is called "Legends From Back'n The Day" flat out, fast fun. In this special event we will look back 30 years and beyond at the competitors and vehicles that made Jeep racing what it is today.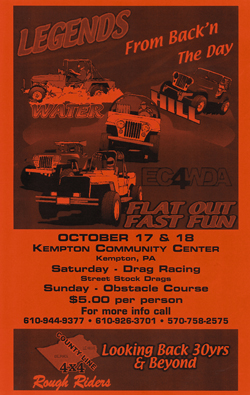 The weather was crappy to say the least. Cold and rainy. The northeast was putting up with a slow moving nor'easter that made the courses into goopy mud. It did add a level of entertainment for the spectators who were watching these high powered race vehicles attempt to get traction in the sloppy mess. Paddle tires were very efficient at grabbing into the mud and throwing it to the rear.
In the early part of the day was a sanctioned EC4WDA race for points followed by the "old-timers" race. The old-timers race featured some vehicles and drivers that have been around since the early days of Jeep racing. Some of the vehicles and drivers have not raced in years.
In addition to the race many old race vehicles were on display in the fair pavilion. There were pictures and videos to help relive some of those days long past.
The Vehicles

John Rauch
The Grundsow
See it years ago


Wild Goose – originally a US Mule driven by Warren Williams


FC Jeep Truck


Dale Lenig
Sneaky Snake
See it years ago

Tight Nuts

Indian Uprising
See it years ago

Young Henry
See it years ago


Loving Memories
See it years ago
Even though I was just a kid when a lot of these Jeeps were in their prime I still have vivid memories of most of these vehicles.
| | |
| --- | --- |
| Dale Lenig – Hurricane Betty. This Jeep was resurrected only a few days before the event. | |
| | Mr Sunday |