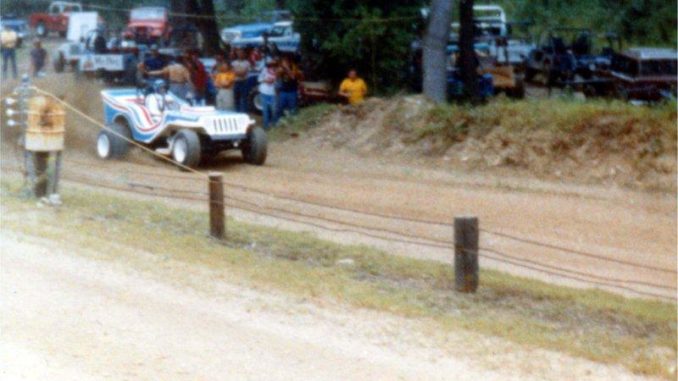 Region B Racing Memories from Days Past: Years ago, back in the 70's and early 80's competitive off-road racing reached it's peak and became the "golden age" of Jeep racing. Region B of the EC4WDA stretched the eastern half of Pennsylvania into New Jersey and south into Maryland.


Clubs hosted events throughout the summertime providing competition for racers and family entertainment for spectators of all ages.
Clubs like the 4WD Trailblazers, Bradford County 4 Wheelers, Delaware 4 Wheelers, and Line Mountain 4 Wheelers hosted some of the best events. Not to forget the Susquehannocks 4 Wheelers, Columbia Hillclimbers, and County Line 4X4 Rough Riders.
We recently uncovered some of the literature passed out at some of these events. Some of you may look through these and remember race Jeeps like the Sneaky Snake, John the Bull, Hart Burn, and Undone.
Memories of the personalities like the late Ron Reimert on the loud speaker with his PA dutch accent hollering "Moving right along, wasting no time…" and "Tunis, Tunis the lights ain't working again!" Preston Leyshon winning everything, Dapper Dan Smith popping wheelies in the Sidewinder and those US Mules. You realize that these events brought relatively the same group of people together like a family for summer after summer.
We have captured some images and flyers left over from those days. Browse through the sections below. If you have images or stories from those days use the link below to contact us.
Events and Photo Albums
Blue Mountain 4 Wheel-o-Rama – 4 Wheel Drive Trailblazers – Wanamakers, PA
Susquehannocks 4 Wheelers – Williamsport, PA
Bradford County 4 Wheelers
4×4 Weekend May & July 1978
Line Mountain 4 Wheelers
Photo Album – Images from past events
page 1 – page 2 – page 3 – page 4 – page 5 – page 6 – page 7 – page 8 – page 9 – page 10 – page 11
Send us your EC4WDA Region B memories
Back to today…
East Cost 4 Wheel Drive Association racing is still alive and well today. To this day some of the same vehicles are still tearing up the tracks. Visit our Jeep Racing section for images and coverage of recent events.