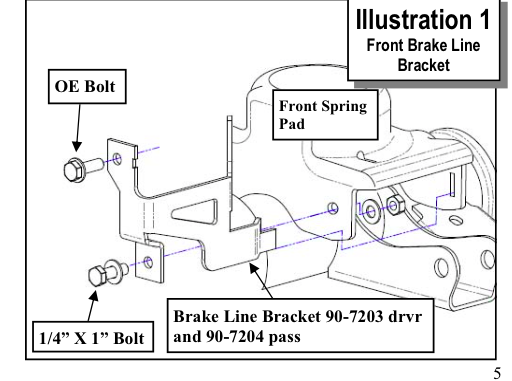 If you have a 2011 to 2016 Jeep Wrangler JK and plan on lifting it you will need to deal with the front brake lines.  In 2011 Jeep added a bracket that attaches to the bottom of the spring perch just in front of the bottom shock mount.
This bracket is useful to keep the brake lines from getting caught up in the coil springs when they are compressed but will cause the line to pull tight when the suspension extends after a lift is installed.
Many lift systems seem to ignore this issue or offer a messy solution.
One solution is to pry open the bracket to free the brake line and cut the clips for the ABS lines.  Usually many kits will tell you to do this as well as loosely attach the lines to the shocks.  This setup works but isn't the best.
Doing a little research we came across a nice bracket made by Pro Comp that solves this problem.  Luckily the bracket is available to buy loose from the kit from Summit Racing.
The part numbers with Summit Racing links are…
Driver Side – 90-7203, Passenger Side 90-7204
We ordered a set of these for the jeepfan.com 2016 JKU RHR after we installed a Teraflex 2.5″ Budget Boost Lift as part of our $3K JK Project.
Installation
We painted the brackets to keep the job neat.  Remove the tire and unbolt the bottom shock mount.  Unbolt the brake bracket and pivot the bracket to free it from the mount.
Install the new bracket into the original mount location.  A 1/4″ bolt with a nut will be required for each side.  Install the original bracket into the new bracket.  Install the original bolt.  Reinstall the bottom shock mount.  That's it.