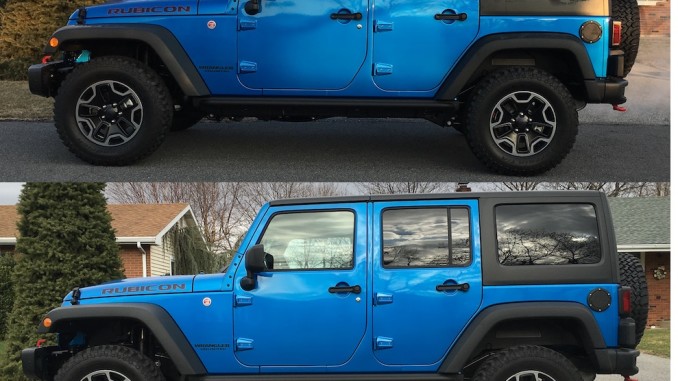 Continuing on from Page 2.  At this point it's time to start putting things back together.  Push the Teraflex spacer up onto the bumpstop tube then push on the original spring isolator.  It should hold itself in place while you install the bumpstop extension.  Put some grease on the top of the extension and use a bottle jack against the lower spring perch to press the extension into the bumpstop tube, it will pop into place.  Repeat the same procedure to press the original bumpstop into the extension.
Install the front spring, it may take a little prying to get it into place due to the added spacer.  Repeat the procedure on the other side.  With the springs in place raise the axle back up to near the springs supporting the Jeep's weight.  Install the rear sway bar links in the front and reinstall the track bar.  Like we did in the rear we added to our lift by installing a Teraflex Forged Adjustable Track Bar.
Completion
Double check the bolts/nuts for proper torque and put the Jeep back on it's own weight.  Take the Jeep for a brief ride and recheck the bolts.  Here is some pictures of the completed project.  There's more to do so don't go far.
Adjustments
Since we added the Teraflex Forged Track Bars we can now adjust the side to side location of the front and rear axles.  Using a level or something straight measure the tire to flare edge on both sides.  Rotate the track bar adjuster to move the axle left or right.  Tighten the clamps on the adjuster making sure they will not come into contact with other items when the suspension moves.  The track bar may need to be re-adjusted after the suspension settles out.
Customization
If you have a 2011 or later JK you will need to deal with this.  Many lifts seem to gloss over the bracket that attaches the brake line and ABS line to the bottom of the spring perch.  If this is just reinstalled it can cause brake line damage when the axle extends.  There is a few ways of dealing with this.  Read our article where we discuss some solutions and how we fixed it – Pro Comp Brake Bracket Extension(coming soon).