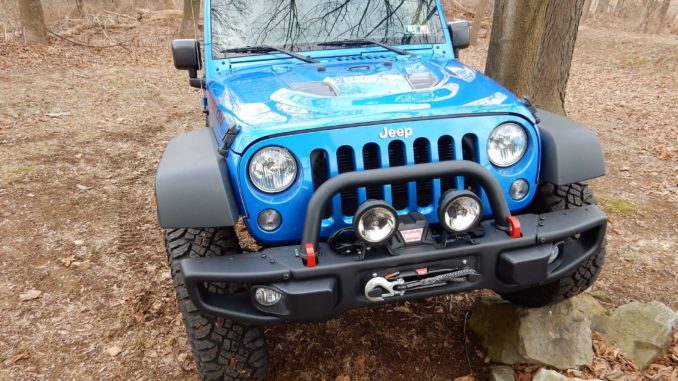 With the Maximus-3 bumper modifications we added a set of 6″ round lights to fill in the space, look good, and provide some extra light. The installed KC HiLites lights feature 20W LED lights the provide a significant amount of light with low power usage.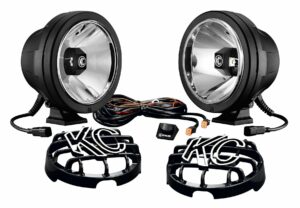 Some specifications and details from KC:
KC HiLiTES 6″ Pro-Sport Gravity LED feature efficient CREE LEDs in a driving or spot beam pattern. Black polymax housing and polycarbonate lens with adjustable mounting bracket for easy aim. System includes wiring harness and stone guards.
FEATURES
-2x 20W Gravity® LED G6 Optical Inserts
-6″ Polymax Housing
-Durable Polycarbonate Lens
-Spot Beam or Driving Beam (SAE & ECE) Patterns
LIGHT PERFORMANCE(PER LIGHT)
-Raw Lumens: 2,300 lm
-Compliance: Driving beam meets SAE J581 & ECE-R112
-Lux @ 10 Meters: Spot- 2,150 lx, Driving- 1,310 lx
-Candela: Spot- 215,000 cd, Driving- 131,000 cd
-Beam Distance (Meters): Spot- 972m, Driving- 724m
SPECIFICATIONS(PER LIGHT)
-Wattage: 20W
-LED Source: CREE XPL HD LED
-Amp Draw: 1.63A
-Voltage: 9V-32V
-IP Rating: IP68
-Product Dimensions: W – 6.25″ x H – 7.00″ x D – 4.54″
Parts Included in Pair Pack system
-(2) 20W 6″ Gravity® LED Pro-Sport Lights
-Wiring Harness with 2-Pin weather proof connectors
-(2) ABS Stone Guards
-30A LED Switch
Gravity® EXTREME OUTPUT AND EFFICIENCY
Gravity® Pro-Sports are powered by our G6 LED optical inserts to deliver 2,150 lx @ 10m using only 1.63A per light. KC's patented Gravity® Reflective Diode system aims LEDs into precision reflectors, capturing all light to project it forward.
AVAILABLE BEAM PATTERN AND ADVANTAGES
Spot Beam- Provides focused bright light for maximum forward distance and high speed visibility.
Driving Beam- SAE & ECE street legal beams provide added peripheral visibility while reaching further than stock lights.
ADJUSTABLE MOUNTING FOR ACCURACY AND PRECISION
Universal adjustable mounts allow for easy mounting to bolt holes, also precise vertical and horizontal aiming of lights for consistency.
STRENGTH & DURABILITY
Using a Race-proven steel housing combined with our IP68 rated Gravity® G6 LED optical insert for an extremely strong and durable light to tolerate the harshest terrains.
Available Part Numbers
• 6″ Pro-Sport Gravity LED Pair Pack System – KC #643 (Spot Beam)
• 6″ Pro-Sport Gravity LED Pair Pack System – KC #644 (Driving Beam)
We installed the driving beam version for extra light coverage further ahead of the Jeep to light up the road as well as the trail. Installation of the lights is the easiest part of the project, wiring it all up is the fun part.
The Maximus-3 bumper mods included a set of light brackets that place the lights within the hoop that protects the top of the winch and the grille. The lights were bolted in place and wiring was run.
Wiring accessories on a JK is much more complex than earlier model Jeeps. There is minimal extra space under the hood and getting wiring through the cowl is a challenge unless you know where the good spots are. In part 2 we will install the wiring and a Rugged Ridge pillar mount switch pod.
Part 2 Coming Soon